Cozy apartment near Olimpiiskyi stadium
(Studio)
15956
About the apartment:
| Adress: | Floor: | Max. guests: | Sq. Area: | Min. Stay: |
| --- | --- | --- | --- | --- |
| 23 Antonovycha Street, Kiev | 4 | 4 persons | 50 sq. m. | 1 night |
Sleeping Areas Available:
1

double bed

1

double sofa bed
Description:
The apartment is located in the very center of Kyiv, near Olimpiiskyi stadium. Walking distance to Gulliver shopping center, Sports Palace, Parus business center. The apartment is spacious, the total area is 50 m2, the interior is modern. The apartment has everything you need for a comfortable stay: kitchen furniture, washing machine, microwave, refrigerator, TV, air conditioning, Wi-Fi Internet. Sleeping places - a double bed and a modern sofa. Reporting documents are provided.
Main Facilities
Credit cards accepted - Laundry washer - TV Set - Cable/Satellite TV - WiFi
Additional Services
Laundry service - Extra bed (air mattress or camp-cot) available on request - Additional cleaning upon request - Extra linens and towels available on request - Computer is available on request - Ironing facilities on request - Hypo-allergenic bedding available on request - Hairdryer on request - Baby cots/cribs available on request - City guide/excursion services - Translator services
Apartment Amenities & Features
Soundproof rooms - Internet access: High-speed - Iron & Ironing board - View to the street - Picturesque view from windows - Clothes dryer - Hot water boiler - Central heating - View to the yard
Apartment Management Features
Groups welcome - Credit card accepted - Cleaning once per week - Accounting documents
Bathroom
Wash-basin - Mirror - Hair Dryer - Laundry washer - Shower - Full-size bathtub
Building & Surroundings
Entrance from the street - Coded lock - Entrance from the yard - New building (5-10 years old)
Kitchen
Frying pan - Pan(s) - Knife(s) - Flatware - Laundry washer - Glasses - Potholders - Dishes - Spatula & Spoon - Cookware - Cutting board - Electric kettle - Corkscrew - Fridge - Salt & Pepper shakers - Microwave - Stove - Dining table - Cooker hood - Kitchen Wastebasket
Living-room
Mirror - Wardrobe - TV Set - Double bed - King-size bed - Flat Screen TV Set - Sofa-bed for 2 persons - Cable TV
Location
Grocery store/supermarket nearby - Nightclub(s) - Bar(s)/Cafe - Restaurant(s) - Park - City-bus stop nearby - Metro station nearby - ATM nearby - SPA/beauty salon nearby - Bank nearby - Stadium nearby - Gym nearby - Drugstore nearby - Exhibition Center nearby - 3-star hotel nearby - Tourist sights nearby - Trolley-bus stop nearby - 4-star hotel nearby - 5-star hotel nearby
Reception Information & Features
Reception - 24 hour - Luggage room - Concierge - City tour - City maps - Reception in another building - Tourist information - Multilingual staff - Newspapers
Transport Services & Parking
Transfer service from and/or to the railway station - Transfer services - Transfer service from and/or to the airport - Limousine service - Free parking (not guarded)
House rules:
Время заселения - c 14:00, время выезда - до 12:00. Если вам необходимо раннее (до 9:00) поселение или поздний (после 18:00) выезд, то следует заранее уточнить возможность предоставления данной услуги (подтверждение возможно за 24 часа до дня заезда) и организовать передачу ключей. Услуга оплачивается в размере 1/2 суточной стоимости проживания. За сокращение периода проживания с гостей взимается штраф в размере суточной стоимости проживания. При поселении с гостя взимается залоговый депозит в размере суточной стоимости проживания, который возвращается при выезде. Запрещено проводить празднования и мероприятия в квартире, а также шуметь после 22:00. В случае нарушения - выселение без возврата залога. Если гость платит через терминал - то есть комиссия банка 10%. Час заселення - c 14:00, час виїзду - до 12:00. Якщо вам необхідно раннє (до 9:00) поселення або пізній (після 18:00) виїзд, то слід заздалегідь уточнити можливість надання даної послуги (підтвердження можливо за 24 години до дня заїзду) і організувати передачу ключів. Послуга оплачується в розмірі 1/2 добової вартості проживання. За скорочення періоду проживання з гостей стягується штраф у розмірі добової вартості проживання. При поселенні з гостя стягується заставний депозит в розмірі добової вартості проживання, який повертається при виїзді. Заборонено проводити святкування і заходи в квартирі, а також шуміти після 22:00. У разі порушення - виселення без повернення застави. Якщо гість платить через термінал - є комісія банку 10%. Check-in time is from 14:00, check-out time is before 12:00. If you need an early (before 9:00) check-in or a late check-out (after 18:00), you should specify in advance the possibility of providing this service (confirmation is possible 24 hours before the day of arrival) and arrange the transfer of keys. The service is paid in the amount of 1/2 daily cost of living. Reduction of the period of stay from visitors the penalty at a rate of daily cost of residing is imposed. Security deposit is required at check-in, this will be the amount of the daily cost of the stay, which is returned upon departure. It is forbidden to hold celebrations and events in the apartment, as well as making noise after 22:00. In case of violation - eviction without a refund. If the guest pays through the terminal - he must to know about bank commission is 10%.
Places nearby:
City Center (Khreschatyk Str)

(0.76km)

Independence Square

(1.6km)

Arena City Entertainment

(0.68km)

Kiev Borispol Airport (KBP)

(29.06km)

Train Station

(1.88km)

Kiev Bus Station

(3.38km)

Kiev Expo Plaza

(8.77km)

Kiev International Exhibition Center

(5.68km)

Expocenter of Ukraine

(6.82km)

Kiev Zhuliany Airport (IEV)

(6.43km)

Metro Poznyaky

(9.51km)

Olympic Republican Stadium

(0.54km)

Kontraktova Square

(3.12km)

NSC Olimpiyskiy Stadium

(0.54km)
Availability calendar
| Mon | Tue | Wed | Thu | Fri | Sat | Sun |
| --- | --- | --- | --- | --- | --- | --- |
| | | | | | | |
| | | | | | | |
| | | | | | | |
| | | | | | | |
| | | | | | | |
| | | | | | | |
Discounts
2 -4%
3 -6%
7 -7%
10 -8%
14 -9%
30 -10%
No Special Offers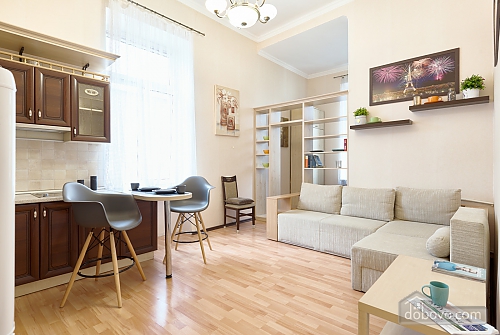 No reviews for this apartment