Room with private bathroom
(Studio)
17586
About the apartment:
| Adress: | Floor: | Max. guests: | Sq. Area: | Min. Stay: |
| --- | --- | --- | --- | --- |
| 29 Velyka Vasylkivska Street, Kiev | 3 | 2 persons | 30 sq. m. | 2 nights |
Sleeping Areas Available:
1
double bed
Description:
Cozy studio apartment in a residential building with beautiful beige velvet. There is a beautiful view of the garden and the park. Satellite TV, wireless Internet and a washing machine will make your stay carefree. This apartment is located in the heart of the capital. But the house is located in a cozy courtyard, where the noise of the capital will not bother you. Baby cot is available upon request.
Main Facilities
WiFi - Air Conditioning - Lift/elevator or 1-2 floor - TV Set - Cable/Satellite TV
Additional Services
Additional cleaning upon request - Extra linens and towels available on request - Ironing facilities on request - Hypo-allergenic bedding available on request - Hairdryer on request - Baby cots/cribs available on request
Apartment Amenities & Features
Hot water boiler - Internet access: High-speed - Central heating - View to the yard - Internet access: Wireless
Apartment Management Features
No cleaning included
Bathroom
Wash-basin - Laundry washer - Shower cabin - Mirror - Hair Dryer - Shower
Building & Surroundings
Historic building - Lift/elevator - Entrance from the yard - Entrance from the street
Kitchen
Dining table - Glasses - Fridge
Living-room
Wardrobe - Mirror - King-size bed - Cable TV - Flat Screen TV Set - Air Conditioner
Location
Restaurant(s) - Park - Grocery store/supermarket nearby - Metro station nearby - Bank nearby - Drugstore nearby - Tourist sights nearby - Bar(s)/Cafe
Reception Information & Features
Reception in the same building - Russian-speaking staff only (no English-speaking staff)
Transport Services & Parking
Free parking (not guarded)
House rules:
При бронировании на 1 день в Новый год требуется залог в размере 3000 грн. Это квартира гостиничного типа. Заезд - в 14:00, выезд - до 12:00.  Стойка регистрации находится внутри квартиры, Пожалуйста, обратите внимание: вы должны прийти на ресепшн для регистрации заезда. Если вы хотите провести раннюю регистрацию заезда (с 8:00) или позднюю регистрацию отъезда (после 01:00), необходимо предварительно организовать эту процедуру. Наш дежурный менеджер встретит Вас у входа (в подъезд вашего дома) в назначенное время. Граждане Украины, которые размещаются на день или два, должны иметь два документа для регистрации (или один документ и персонализированную кредитную карту). При размещении на три и более дней требуется только один документ, удостоверяющий личность (паспорт или водительские права). Чтобы организовать раннюю регистрацию заезда (8:00) или позднюю регистрацию отъезда (до 18:00), проверьте возможность предоставления этой услуги, связавшись с владельцем через вкладку Спросить владельца. Ранняя регистрация заезда и поздняя регистрация отъезда - это дополнительные услуги, стоимость которых составляет 1/2 от дневной цены и может быть подтверждена за 24 часа до дня прибытия. There is a security deposit of 3000 UAH required if you book for 1 day on the New Year. This is a hotel type apartment. Check-in - at 14:00, check-out - till 12:00. Reception (registration) desk is inside apartment, Please note: you should come for Reception desk for check in procedure. If you would like to have an early check-in (from 8:00) or late check-out (after 01:00), it's necessary to pre-arrange this procedure. Our manager on duty will meet You at the front (the entrance to your house) at the appointed time. Citizens of Ukraine, which are placed for a day or two, should have two documents for the registration (or a single document and personalized credit card). When placed on three or more days, only one identity document (passport or driving license) is required. To arrange an early check-in (8:00) or late check-out (until 18:00), please verify the possibility of providing this service contacting the owner via the Ask owner tab. Early check-in and late check-out are additional services, they cost 1/2 of the daily rate and can be confirmed 24 hours before the day of arrival.
Places nearby:
City Center (Khreschatyk Str)

(0.54km)

Independence Square

(1.39km)

Arena City Entertainment

(0.46km)

Kiev Borispol Airport (KBP)

(29km)

Train Station

(1.99km)

Kiev Bus Station

(3.53km)

Kiev Expo Plaza

(8.82km)

Kiev International Exhibition Center

(5.5km)

Expocenter of Ukraine

(7.03km)

Kiev Zhuliany Airport (IEV)

(6.63km)

Metro Poznyaky

(9.46km)

Olympic Republican Stadium

(0.54km)

Kontraktova Square

(2.95km)

NSC Olimpiyskiy Stadium

(0.54km)
Availability calendar
| Mon | Tue | Wed | Thu | Fri | Sat | Sun |
| --- | --- | --- | --- | --- | --- | --- |
| | | | | | | |
| | | | | | | |
| | | | | | | |
| | | | | | | |
| | | | | | | |
| | | | | | | |
Discounts
2 -4%
3 -6%
7 -14%
30 -25%
No Special Offers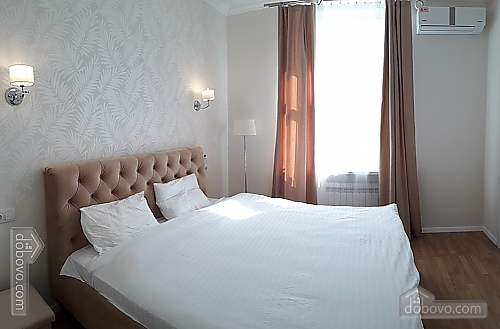 No reviews for this apartment