Apartment with a good view in a new house
(One bedroom)
20198
About the apartment:
| Adress: | Floor: | Max. guests: | Sq. Area: | Min. Stay: |
| --- | --- | --- | --- | --- |
| 7A Lesi Ukrainky Boulevard, Kiev | 12 | 4 persons | 105 sq. m. | 7 nights |
Sleeping Areas Available:
1

double bed

1

double sofa bed
Description:
A huge (105 m2) one-bedroom apartment with a beautiful view is in a new house. Located on the 12th floor of a 25 storey new house, 10 minutes walk from Khreshchatyk street. It consists of two separate rooms, a kitchen, a balcony and two loggias. A bathroom has a bidet and a sink. There is a large King size bed in the bedroom. There is a large double sofa in the living room. The apartment is equipped with all household appliances, crockery, bed linen.
Main Facilities
Air Conditioning - Lift/elevator or 1-2 floor - Laundry washer - TV Set - Cable/Satellite TV - WiFi
Additional Services
Additional cleaning upon request
Apartment Amenities & Features
Clothes dryer - Iron & Ironing board - Terrace/Balcony/Loggia - Hot water boiler - Central heating - Picturesque view from windows
Apartment Management Features
Cleaning every 3 days - Accounting documents
Bathroom
Full-size bathtub - Wash-basin - Bidet - Mirror - Hair Dryer - Laundry washer - Shower
Bedroom
Wardrobe - Pictures - King-size bed - Cable TV - Flat Screen TV Set - TV Stand - Air Conditioner
Building & Surroundings
Concierge - Lift/elevator - Brand new building (less than 5 years old) - Entrance from the yard
Kitchen
Microwave - Stove - Kitchen Wastebasket - Potholders - Cooker hood - Cutting board - Corkscrew - Salt & Pepper shakers - Frying pan - Pan(s) - Knife(s) - Flatware - Dining table - Glasses - Dishes - Cookware - Electric kettle - Fridge - Oven
Living-room
Pot flowers - Wardrobe - Armchair - TV Stand - Desk - Pictures - Magazine table - Sofa-bed for 2 persons - Cable TV - Flat Screen TV Set - Air Conditioner
Location
Restaurant(s) - Trolley-bus stop nearby - Grocery store/supermarket nearby - City-bus stop nearby - Metro station nearby - ATM nearby - Bank nearby - SPA/beauty salon nearby - Stadium nearby - Drugstore nearby - Gym nearby - Tourist sights nearby - 3-star hotel nearby - 4-star hotel nearby
Reception Information & Features
Russian-speaking staff only (no English-speaking staff)
Transport Services & Parking
Free parking (not guarded)
House rules:
Заезд - после 14:00. Выезд - до 12:00. Ранний заезд с 9:00 и поздний выезд до 17:00 - доплата в размере стоимости половины суток проживания. При заезде оплачивается страховой депозит в размере стоимости суток проживания, который возвращается при выезде, если в квартире все в порядке. При себе необходимо иметь оригинал паспорта. Возраст - от 25 лет. Курить в квартире запрещено. Штраф 100 USD. Проживание с животными запрещено. Шуметь после 22:00 запрещено. Аренда апартаментов для празднования дня рождения, или любого массового мероприятия запрещена. При заезде в квартиру, оплачивается сразу весь период проживание и страховой депозит. При смене количества дней проживания, мы имеем право отказать в проживании и удержать предоплату. Бронирование строго по предоплате. Check in - from 14:00. Check-out - till 12:00. Early check-in from 9:00 and late check-out till 17:00 - supplement in the amount of the cost of half night of stay. We take a security deposit upon check-in in the amount of the price per 1 night, which will be refunded upon check-out if the apartment is all right. You should have your original passport. Age limit: 25 years. Smoking is forbidden in the apartment. The fine is 100 USD. Pets are not allowed. Making noise after 22:00 is prohibited. Apartment rent for birthday party, or any event is prohibited. You should pay for the whole period of accommodation and security deposit upon check-in. When you change the number of days of stay, we have the right to refuse to stay and keep the money. Booking is strictly with prepayment. Заїзд - після 14:00. Виїзд - до 12:00. Ранній заїзд з 9:00 і пізній виїзд до 17:00 - доплата в розмірі вартості половини доби проживання. При заїзді оплачується страховий депозит в розмірі вартості доби проживання, який повертається при виїзді, якщо в квартирі все в порядку. При собі необхідно мати оригінал паспорта. Вік - від 25 років. Курити в квартирі заборонено. Штраф 100 USD. Проживання з тваринами заборонено. Шуміти після 22:00 заборонено. Оренда апартаментів для святкування дня народження, або будь-якого масового заходу заборонена. При заїзді в квартиру, оплачується відразу весь період проживання і страховий депозит. При зміні кількості днів проживання, ми маємо право відмовити в проживанні та утримати передоплату. Бронювання суворо по передоплаті.
Places nearby:
City Center (Khreschatyk Str)

(1.22km)

Independence Square

(1.84km)

Arena City Entertainment

(1.12km)

Kiev Borispol Airport (KBP)

(27.82km)

Train Station

(3.13km)

Kiev Bus Station

(3.18km)

Kiev Expo Plaza

(10km)

Kiev International Exhibition Center

(4.63km)

Expocenter of Ukraine

(7.14km)

Kiev Zhuliany Airport (IEV)

(7.39km)

Metro Poznyaky

(8.29km)

Olympic Republican Stadium

(0.76km)

Kontraktova Square

(3.55km)

NSC Olimpiyskiy Stadium

(0.76km)
Availability calendar
| Mon | Tue | Wed | Thu | Fri | Sat | Sun |
| --- | --- | --- | --- | --- | --- | --- |
| | | | | | | |
| | | | | | | |
| | | | | | | |
| | | | | | | |
| | | | | | | |
| | | | | | | |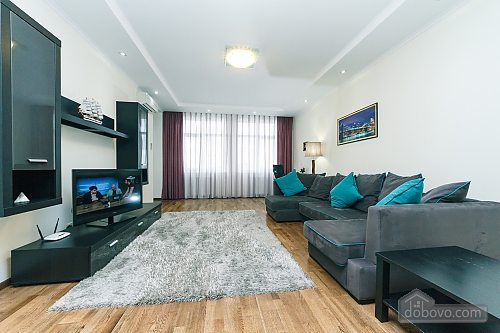 No reviews for this apartment