Apartment with a spacious bedroom in a new building
(One bedroom)
27239
About the apartment:
| Adress: | Floor: | Max. guests: | Sq. Area: | Min. Stay: |
| --- | --- | --- | --- | --- |
| 121 Saksahanskoho Street, Kiev | 9 | 4 persons | 70 sq. m. | 2 nights |
Sleeping Areas Available:
1

double bed

1

double sofa bed

2

single sofa bed
Description:
The apartment is located on the 9 floor of a 24-storey new building. The total area - 70 m2. Kitchen-studio with access to a glazed balcony, a large living room with a comfortable seating area: 2 triple sofa, coffee table, plasma TV with digital channels, dining round table and chairs. The bedroom has a double bed with bedside tables and night lamps and a large wardrobe. There are all necessary appliances, air conditioning, free Wi-Fi. Spacious bathroom with standard bath, washing machine and dryer. The house is located in the active business center of the capital. There are Universytet and Vokzalna metro stations and public transport stops nearby. There are many bars and restaurants in the neighboring houses. There are Arena City and Gulliver entertainment centers, Olimpiiskyi stadium, Khreschatyk street, Bessarabska square. There are one of the best city parks nearby - Botanical Garden named after Fomina, park named after T. Shevchenko.
Main Facilities
Laundry washer - TV Set - Cable/Satellite TV - WiFi - Air Conditioning - Credit cards accepted - Lift/elevator or 1-2 floor
Additional Services
Additional cleaning upon request
Apartment Amenities & Features
Iron & Ironing board - Clothes dryer - Terrace/Balcony/Loggia - View to the yard - Central heating - Picturesque view from windows
Apartment Management Features
Credit card accepted - Cleaning every 4 days
Bathroom
Hair Dryer - Laundry washer - Shower - Full-size bathtub - Mirror
Bedroom
Pictures - Double bed - Air Conditioner - Wardrobe
Building & Surroundings
Concierge - Magnetic lock - Lift/elevator - New building (5-10 years old) - Entrance from the yard
Kitchen
Electric kettle - Fridge - Stove - Kitchen Wastebasket - Spatula & Spoon - Cutting board - Corkscrew - Cooker hood - Salt & Pepper shakers - Frying pan - Pan(s) - Knife(s) - Flatware - Dining table - Glasses - Dishes - Cookware
Living-room
Pictures - Carpet - Magazine table - TV Stand - Sofa-bed for 2 persons - Cable TV - Flat Screen TV Set - Air Conditioner
Location
5-star hotel nearby - Nightclub(s) - Bar(s)/Cafe - Restaurant(s) - Park - Grocery store/supermarket nearby - Trolley-bus stop nearby - City-bus stop nearby - Metro station nearby - ATM nearby - Bank nearby - Stadium nearby - Gym nearby - Drugstore nearby - 3-star hotel nearby
Reception Information & Features
Russian-speaking staff only (no English-speaking staff) - Reception - 24 hour
Transport Services & Parking
Guarded car park - Free parking (not guarded)
House rules:
Заезд возможен только до 24:00. Заезд - с 14:00, выезд - в 12:00. Ранний заезд (с 8:00) и поздний выезд (до 22:00) оплачиваются в размере половины суточной стоимости. Заселение осуществляет администратор, который ждет гостя в квартире в заранее оговоренное время. При заселении с гостя взимается страховой депозит в размере 1500 UAH, который возвращается при выселении гостя, если квартире не был нанесен ущерб. В квартире запрещено курить. Возрастное ограничение: от 25 лет (возможны исключения при внесении залога в размере 100 USD при поселении). Ключи передаются в квартире. Бесплатная уборка в квартире и смена постельного белья осуществляется через 4 дня проживания. Заселение происходит только при наличии паспорта. Квартира не сдается для проведения вечеринок, празднований дней рождения и нового года. Заїзд можливий тільки до 24:00. Заїзд - з 14:00, виїзд - о 12:00. Ранній заїзд (з 8:00) і пізній виїзд (до 22:00) оплачуються в розмірі половини добової вартості. Заселення здійснює адміністратор, який чекає гостя у квартирі в заздалегідь обумовлений час. При заселенні з гостя стягується страховий депозит в розмірі 1500 UAH, який повертається при виселенні гостя, якщо квартирі не було завдано збитків. У квартирі заборонено палити. Вікове обмеження: від 25 років (можливі виключення при внесенні застави в розмірі 100 USD при поселенні). Ключі передаються в квартирі. Безкоштовне прибирання у квартирі і зміна постільної білизни здійснюється через 4 дня проживання. Заселення відбувається тільки при наявності паспорта. Квартира не здається для проведення вечірок, святкувань днів народження і нового року.
Places nearby:
City Center (Khreschatyk Str)

(1.61km)

Independence Square

(2.04km)

Arena City Entertainment

(1.63km)

Kiev Borispol Airport (KBP)

(30.38km)

Train Station

(0.7km)

Kiev Bus Station

(4.24km)

Kiev Expo Plaza

(7.45km)

Kiev International Exhibition Center

(6.71km)

Expocenter of Ukraine

(7.03km)

Kiev Zhuliany Airport (IEV)

(5.8km)

Metro Poznyaky

(10.83km)

Olympic Republican Stadium

(1.86km)

Kontraktova Square

(2.88km)

NSC Olimpiyskiy Stadium

(1.86km)
Availability calendar
| Mon | Tue | Wed | Thu | Fri | Sat | Sun |
| --- | --- | --- | --- | --- | --- | --- |
| | | | | | | |
| | | | | | | |
| | | | | | | |
| | | | | | | |
| | | | | | | |
| | | | | | | |
Discounts
2 -4%
3 -6%
7 -5%
10 -7%
14 -10%
30 -15%
Special Offers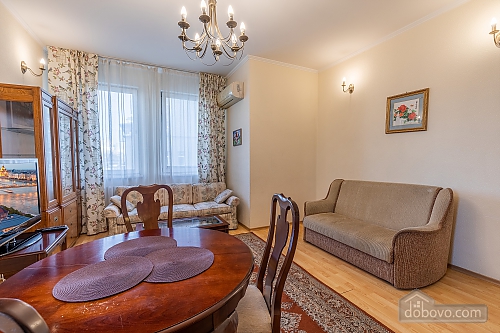 No reviews for this apartment