Apartment near the metro station
(Studio)
31472
About the apartment:
| Adress: | Floor: | Max. guests: | Sq. Area: | Min. Stay: |
| --- | --- | --- | --- | --- |
| 5 Solomii Krushelnytskoi, Kyiv | 15 | 4 persons | 45 sq. m. | 2 nights |
Sleeping Areas Available:
1

double bed

1

double sofa bed
Description:
This is a great cozy specific apartment with air conditioning. Pozniaky metro station is in 7 minute walk. There is an excellent transport interchange. There are a lot of shopping centers nearby. There are stop of minibuses nearby, 5-7 minutes to New Way shopping center. There is everything you need for a comfortable stay. There are crockery, bedding. There are double bed in the bedroom and a sofa bed in the kitchen. Kitchen closes isolated. Optionally specify additional bed (euro clamshell). There is a clean entrance, 3 lift. In house there are concierge and security. Transfers is possible by agreement (extra charge).
Main Facilities
Cable/Satellite TV - Free Internet - Air Conditioning - WiFi - Lift/elevator or 1-2 floor - Laundry washer
Additional Services
Extra bed (air mattress or camp-cot) available on request - Extra linens and towels available on request - Hairdryer on request - Additional cleaning upon request
Apartment Amenities & Features
Central heating - Picturesque view from windows - Internet access: Wireless - Iron & Ironing board - Clothes dryer - Terrace/Balcony/Loggia - View to the street - Hot water boiler
Apartment Management Features
No cleaning included - Accounting documents
Bathroom
Mirror - Wash-basin - Shower - Full-size bathtub
Bathroom 2
Bidet - Laundry washer - Hair Dryer
Building & Surroundings
Concierge - Coded lock - Lift/elevator - New building (5-10 years old) - Entrance from the yard
Key Delivery
In the apartment upon arrival
Kitchen
Flatware - Glasses - Dishes - Cookware - Electric kettle - Fridge - Oven - Microwave - Kitchen Wastebasket - Stove - Potholders - Spatula & Spoon - Cutting board - Corkscrew - Salt & Pepper shakers - Dining table - Frying pan - Pan(s) - Knife(s)
Living-room
Wardrobe - TV Set - Double bed - Cable TV - Air Conditioner
Location
Grocery store/supermarket nearby - Bar(s)/Cafe - Restaurant(s) - Beach (by bus or taxi) - City-bus stop nearby - Metro station nearby - ATM nearby - Bank nearby - SPA/beauty salon nearby - Stadium nearby - Drugstore nearby - Gym nearby
Reception Information & Features
Concierge - Russian-speaking staff only (no English-speaking staff)
Transport Services & Parking
Transfer service from and/or to the railway station - Transfer service from and/or to the airport - Transfer services - Guarded car park - Free parking (not guarded)
House rules:
Под празднования не сдается! Не принимаем гостей младше 23 лет. При заселении заключается посуточный договор с оригиналом паспорта и вносится страховой платеж в размере стоимости суток (на момент бронирования), который возвращается при выселении. Расчетное время 12:00. Заезд с 13:00-14:00. Ранний заезд, но не ранее 08:00, оплачивается дополнительно, как 50% стоимости суток и только по согласованию. Поздний выезд тоже, но не позднее 18:00. Строго запрещено: 1. Ходить в обуви; 2. Курить в квартире (можно только на балконе); 3. Проживать с животными; 4. Громко слушать музыку, ТВ и прочее после 21:00; 5. Праздновать Дни рождения, организовывать встречи выпускников и проводить другие подобные мероприятия; 6. Приглашать посторонних людей в квартиру, без договорённости, только по согласованию. 7. Приносить и хранить в квартире запрещённые предметы: оружие, наркотические вещества, боеприпасы, колющие, режущие предметы, химические препараты; 8. Обращаться к соседям с различными просьбами без согласования причины; 9. Переставлять мебель в квартире без согласования; 10. Вешать на стенах, потолке, дверях, мебели различные предметы, которые повреждают поверхность; 11. Фотографировать данное помещение и размещать различного вида рекламу, связанную с данным помещением; 12. Пересдавать и передавать ответственность по данному Договору данную квартиру другим лицам, не указанных в данном Договоре; 13. Выносить бытовую технику, мебель и прочие предметы из квартиры, а также производить их замену на альтернативную; 14. Осуществлять заказы товаров и услуг по данному адресу с заносом в квартиру без согласования с Арендодателем (только до подъезда). При несоблюдении хотя бы одного из правил Арендодатель имеет право выселить вас без возврата страхового депозита и аванса.
Places nearby:
City Center (Khreschatyk Str)

(10.47km)

Independence Square

(10.75km)

Arena City Entertainment

(10.39km)

Kiev Borispol Airport (KBP)

(18.64km)

Train Station

(12.33km)

Kiev Bus Station

(9.06km)

Kiev Expo Plaza

(19.29km)

Kiev International Exhibition Center

(7.6km)

Expocenter of Ukraine

(12.02km)

Kiev Zhuliany Airport (IEV)

(14.95km)

Metro Poznyaky

(1.04km)

Olympic Republican Stadium

(9.99km)

Kontraktova Square

(12.15km)

NSC Olimpiyskiy Stadium

(9.99km)
Availability calendar
| Mon | Tue | Wed | Thu | Fri | Sat | Sun |
| --- | --- | --- | --- | --- | --- | --- |
| | | | | | | |
| | | | | | | |
| | | | | | | |
| | | | | | | |
| | | | | | | |
| | | | | | | |
Discounts
3 -2%
7 -4%
10 -5%
14 -7%
30 -10%
No Special Offers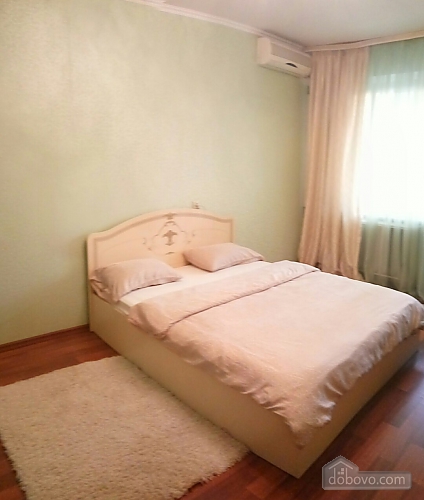 No reviews for this apartment