Apartment overlooking Maidan Nezalezhnosti
(One bedroom)
37550
About the apartment:
| Adress: | Floor: | Max. guests: | Sq. Area: | Min. Stay: |
| --- | --- | --- | --- | --- |
| 4 Borysa Hrinchenka Street, Kiev | 6 | 4 persons | 47 sq. m. | 2 nights |
Sleeping Areas Available:
1

double bed

1

double sofa bed
Description:
The apartment is located in the heart of the city, on Nezalezhnosti square, next to the main street - Khreschatyk. The nearest metro stations are Maidan Nezalezhnosti and Khreschatyk. The apartment has 4 sleeping places. The apartment is located on the 6th floor of a 6-storey building. There is everything necessary for comfortable rest and stay at the guests disposal.
Main Facilities
Credit cards accepted - Lift/elevator or 1-2 floor - Laundry washer - Flat Screen TV - Cable/Satellite TV - Free Internet - Air Conditioning - TV Set - WiFi
Additional Services
Additional cleaning upon request - Extra linens and towels available on request
Apartment Amenities & Features
Door intercom phone - Central heating - Internet access: Wireless - View to the street
Apartment Management Features
Credit card accepted - Cleaning every 4 days
Bathroom
Wash-basin - Mirror - Hair Dryer - Shower cabin
Bedroom
Wardrobe - Mirror - King-size bed - Air Conditioner
Building & Surroundings
Entrance from the street - Magnetic lock - Historic building - Lift/elevator
Key Delivery
Pick up on the reception
Kitchen
Glasses - Cooker hood - Dishes - Cookware - Electric kettle - Fridge - Microwave - Dining table - Stove - Laundry washer - Spatula & Spoon - Cutting board - Corkscrew - Salt & Pepper shakers - Frying pan - Pan(s) - Knife(s) - Flatware
Living-room
Armchair - TV Stand - Pot flowers - Desk - Sofa-bed for 2 persons - Cable TV - Flat Screen TV Set - Air Conditioner
Location
ATM nearby - Bank nearby - Drugstore nearby - Bar(s)/Cafe - Restaurant(s) - Trolley-bus stop nearby - City-bus stop nearby - Metro station nearby - Grocery store/supermarket nearby
Reception Information & Features
Russian-speaking staff only (no English-speaking staff)
Transport Services & Parking
Free parking (not guarded)
House rules:
Заезд - 14:00. Выезд - 12:00. При заезде взимается залоговая сумма 100 USD, которая возвращается при выезде, если квартире не нанесен ущерб. Вы должны вести себя в соответствии с моральными и этическими нормами. Громко включенная музыка, крики или ваши хулиганские действия могут повлечь жалобы соседей и вы будете незамедлительно выселены из квартиры без компенсации Вашей предоплаты за весь период проживания и без возврата депозита (100 USD). Check-in - 14:00. Check-out - 12:00. Upon check-in, a security deposit of 100 USD will be charged, which is refunded at check-out, if the apartment is not damaged. You must behave in accordance with moral and ethical standards. Loudly activated music, screams or your hooligan actions can entail complaints of neighbors and you will be immediately evicted from the apartment without compensation of your advance payment for the entire period of your stay and without a deposit refund (100 USD). Заїзд - 14:00. Виїзд - 12:00. При заїзді стягується заставна сума 100 USD, яка повертається при виїзді, якщо квартирі не завдано збитків. Ви повинні вести себе відповідно до моральних та етичних норм. Голосно включена музика, крики або ваші хуліганські дії можуть спричинити скарги сусідів і ви будете негайно виселені з орендованої квартири без компенсації Вашої передоплати за весь період проживання і без повернення депозиту (100 USD).
Places nearby:
City Center (Khreschatyk Str)

(0.91km)

Independence Square

(0.21km)

Arena City Entertainment

(1.03km)

Kiev Borispol Airport (KBP)

(29.24km)

Train Station

(2.6km)

Kiev Bus Station

(4.9km)

Kiev Expo Plaza

(8.67km)

Kiev International Exhibition Center

(4.98km)

Expocenter of Ukraine

(8.43km)

Kiev Zhuliany Airport (IEV)

(7.69km)

Metro Poznyaky

(9.91km)

Olympic Republican Stadium

(1.81km)

Kontraktova Square

(1.59km)

NSC Olimpiyskiy Stadium

(1.81km)
Availability calendar
| Mon | Tue | Wed | Thu | Fri | Sat | Sun |
| --- | --- | --- | --- | --- | --- | --- |
| | | | | | | |
| | | | | | | |
| | | | | | | |
| | | | | | | |
| | | | | | | |
| | | | | | | |
Discounts
3 -1%
7 -2%
14 -5%
30 -10%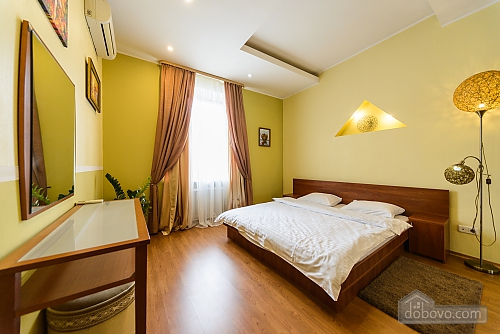 No reviews for this apartment