Luxury level apartment in the city center
(Studio)
44611
About the apartment:
| Adress: | Floor: | Max. guests: | Sq. Area: | Min. Stay: |
| --- | --- | --- | --- | --- |
| 10 Tarasa Shevchenka Boulevard, Kiev | 2 | 2 persons | 35 sq. m. | 2 nights |
Sleeping Areas Available:
1

double bed

1

double sofa bed
Description:
Business class apartment located in the central part of Kyiv, adjacent to the legendary Bessarabian market, the main street Khreschatyk, as well as modern shopping - entertainment complexes "Mandarin Plaza", "Arena City", "Metrograd". Boulevard is named after the great Ukrainian poet and artist. The apartment is equipped with the necessary appliances: refrigerator, microwave, air conditioning, TV, DVD, iron, hair dryer. Internet. Your vacation will be provided by a double bed and a sofa. Security deposit is at the rate of two days cost.Deposit will be refunded upon check-out, after checking the apartment.
Main Facilities
Air Conditioning - WiFi - Laundry washer - Cable/Satellite TV - Free Internet
Additional Services
Additional cleaning upon request - Extra linens and towels available on request - Non-smoking apartments available upon request
Apartment Amenities & Features
Iron & Ironing board - Terrace/Balcony/Loggia - Door intercom phone - Terrace/Balcony - Hot water boiler - Autonomous heating - View to the street - Central heating - Internet access: Wireless
Apartment Management Features
Cleaning every 4 days - Accounting documents
Bathroom
Mirror - Hair Dryer - Shower - Wash-basin - Full-size bathtub
Building & Surroundings
Coded lock - Historic building - Entrance from the street
Key Delivery
Pick up on the reception
Kitchen
Dishes - Cookware - Laundry washer - Electric kettle - Fridge - Oven - Kitchen Wastebasket - Microwave - Potholders - Stove - Spatula & Spoon - Cutting board - Corkscrew - Salt & Pepper shakers - Dining table - Frying pan - Pan(s) - Knife(s) - Flatware - Glasses
Living-room
Wardrobe - TV Stand - TV Set - Desk - Double bed - Pictures - Carpet - Magazine table - Cable TV - Air Conditioner
Location
Nightclub(s) - Bar(s) - Mini-market nearby - Restaurant(s) - Park - Trolley-bus stop nearby - Grocery store/supermarket nearby - City-bus stop nearby - Bar(s)/Cafe - Metro station nearby - ATM nearby - Bank nearby - Drugstore nearby
Reception Information & Features
Multilingual staff - Reception - limited hours - Reception in another building
Transport Services & Parking
Transfer service from and/or to the railway station - Transfer service from and/or to the airport - Transfer services
House rules:
Заезд - 14:00. Выезд - 12:00. При заезде берется залоговая сумма 100 USD, которая возвращается при выезде, если квартире не нанесен ущерб. Вы должны вести себя в соответствии с моральными и этическими нормами. Громко включенная музыка, крики или ваши хулиганские действия могут повлечь жалобы соседей и вы будете незамедлительно выселены из арендуемой квартиры без компенсации Вашей предоплаты за весь период проживания и без возврата депозита (100 USD). Заселення - 14:00. Виселення - 12:00. При заїзді береться заставна сума 100 USD, яка повертається при виїзді, якщо квартирі не завдано збитків. Ви повинні вести себе відповідно до моральних та етичних нормам. Голосно включена музика, крики або ваші хуліганські дії можуть спричинити скарги сусідів і ви будете негайно виселені з орендованої квартири без компенсації Вашої передоплати за весь період проживання і без повернення депозиту (100 USD). Check-in - 14:00. Check-out - 12:00. We take a deposit 100 USD upon check-in, which will be returned upon check-out in case the apartment is not damaged. You must behave in accordance with moral and ethical standards. Loudly activated music, screams or your hooligan actions can entail complaints of neighbors and you will be immediately evicted from the rented apartment without compensation of your advance payment for the entire period of your stay and without a deposit refund (100 USD).
Places nearby:
City Center (Khreschatyk Str)

(0.3km)

Independence Square

(0.89km)

Arena City Entertainment

(0.37km)

Kiev Borispol Airport (KBP)

(29.21km)

Train Station

(2.02km)

Kiev Bus Station

(4.09km)

Kiev Expo Plaza

(8.61km)

Kiev International Exhibition Center

(5.38km)

Expocenter of Ukraine

(7.55km)

Kiev Zhuliany Airport (IEV)

(6.94km)

Metro Poznyaky

(9.74km)

Olympic Republican Stadium

(1.05km)

Kontraktova Square

(2.38km)

NSC Olimpiyskiy Stadium

(1.05km)
Availability calendar
| Mon | Tue | Wed | Thu | Fri | Sat | Sun |
| --- | --- | --- | --- | --- | --- | --- |
| | | | | | | |
| | | | | | | |
| | | | | | | |
| | | | | | | |
| | | | | | | |
| | | | | | | |
Discounts
3 -1%
7 -2%
10 -3%
14 -5%
30 -10%
No Special Offers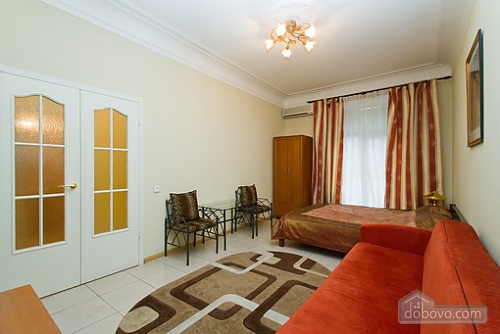 No reviews for this apartment