Unusual apartment in classic style
(One bedroom)
50904
About the apartment:
| Adress: | Floor: | Max. guests: | Sq. Area: | Min. Stay: |
| --- | --- | --- | --- | --- |
| 19A Volodymyrska Street, Kiev | 2 | 2 persons | 50 sq. m. | 1 night |
Sleeping Areas Available:
1

double bed

1

single sofa bed
Description:
The apartment will appeal to all lovers of unusual layouts and those who want to live in the heart of historic Kyiv. The kitchen is combined with the living room and has access to the 2nd level. The living room has a leather sofa and 2 armchairs, as well as access to the balcony. On the second level of the apartment there is a cozy corner with a wicker chair, a closet and a mini training apparatus near a small window. The combined bathroom also has a small window. The bedroom is very spacious and bright, for the convenience of guests there is a queen size bed, wardrobe and dressing table.
Main Facilities
Credit cards accepted - Lift/elevator or 1-2 floor - Laundry washer - Cable/Satellite TV - WiFi
Additional Services
Additional cleaning upon request - Laundry service - Extra linens and towels available on request
Apartment Amenities & Features
Terrace/Balcony/Loggia - View to the yard - Hot water boiler - Autonomous heating - Central heating - Clothes dryer - Iron & Ironing board
Apartment Management Features
Accounting documents - Credit card accepted - Cleaning every 3 days - Groups welcome
Bathroom
Mirror - Hair Dryer - Wash-basin - Laundry washer - Shower - Full-size bathtub
Bedroom
Pictures - King-size bed - Bedroom table/chest of drawers - Mirror - Wardrobe - Pot flowers
Building & Surroundings
Magnetic lock - Historic building - Lift/elevator - Entrance from the yard
Kitchen
Cutting board - Corkscrew - Dining table - Frying pan - Pan(s) - Knife(s) - Flatware - Glasses - Dishes - Cookware - Electric kettle - Fridge - Cooker hood - Oven - Microwave - Stove - Kitchen Wastebasket
Living-room
Pictures - Carpet - Sofa-bed for 2 persons - Cable TV - Armchair - TV Stand - Pot flowers - TV Set
Location
Trolley-bus stop nearby - Metro station nearby - SPA/beauty salon nearby - Drugstore nearby - Gym nearby - Tourist sights nearby - 4-star hotel nearby - Grocery store/supermarket nearby - 5-star hotel nearby - Nightclub(s) - Bar(s)/Cafe - Restaurant(s) - ATM nearby - Beach (by bus or taxi) - Bank nearby - Park
Reception Information & Features
Reception in another building - Multilingual staff - Luggage room - Reception - 24 hour - City maps
Transport Services & Parking
Transfer service from and/or to the railway station - Transfer service from and/or to the airport - Transfer services - Rent a car with a driver - Free parking (not guarded)
House rules:
1. Время заселения - с 14:00. Время выезда - до 12:00, независимо от времени Вашего поселения. 2. Квартира предоставляется Вам для проживания, что исключает проведение шумных мероприятий, съемок, что может причинять беспокойство соседям, нарушать общественный порядок, ущерб имуществу в квартире, в том числе согласно 182 ст. 3. Запрещено курение. Штраф 1500 UAH и выселение без возврата оплаты. 4. Запрещено проживание с животными. Штраф 1500 UAH и выселение без возврата оплаты. 5. Количество людей, пребывающих в квартире после 22:00 не должно превышать число спальных мест в квартире. 6. В случае, если вы переставили мебель, то вы должны вернуть ее на то же место перед вашим выездом. 7. Вы несете полную материальную ответственность за имущество находящееся в квартире во время Вашего проживания, в том числе за действия третьих лиц, которые находятся в квартире с вашего ведома. 8. Дополнительно оплачивается уборка за чрезмерно загрязненную квартиру (липкий пол, испачканные матрасы, постель, полотенца). 9. Не открывайте дверь квартиры незнакомым людям. Всегда закрывайте дверь изнутри, находясь в квартире. 10. Не оставляйте в квартире ценные вещи (паспорт, ноутбук, банковские карты, деньги и другое). Администрация не несет ответственность за их сохранность и не возмещает материальный ущерб в случае их пропажи или порчи. * Если Вы арендуете квартиру для иных целей, чем проживание (офис-встреча, день рождения) - Вы должны предупредить об этом менеджера, и согласовать дополнительные условия, которые должны быть внесены в регистрационную форму. В противном случае, клиент подлежит немедленному выселению без возврата внесенных денежных средств с оплатой штрафа. За дополнительное постельное белье для дивана - 100 UAH. Аренда под празднование - под запрос (в случае подтверждения берется залоговая сумма 1000 UAH). При бронировании на Новый год - залог 2000 UAH, возвращается при выезде, если в квартире все в порядке.
Places nearby:
City Center (Khreschatyk Str)

(1.18km)

Independence Square

(0.54km)

Arena City Entertainment

(1.3km)

Kiev Borispol Airport (KBP)

(29.56km)

Train Station

(2.53km)

Kiev Bus Station

(5.15km)

Kiev Expo Plaza

(8.38km)

Kiev International Exhibition Center

(5.21km)

Expocenter of Ukraine

(8.58km)

Kiev Zhuliany Airport (IEV)

(7.67km)

Metro Poznyaky

(10.25km)

Olympic Republican Stadium

(2.07km)

Kontraktova Square

(1.32km)

NSC Olimpiyskiy Stadium

(2.07km)
Availability calendar
| Mon | Tue | Wed | Thu | Fri | Sat | Sun |
| --- | --- | --- | --- | --- | --- | --- |
| | | | | | | |
| | | | | | | |
| | | | | | | |
| | | | | | | |
| | | | | | | |
| | | | | | | |
Discounts
2 -2%
3 -3%
7 -5%
10 -6%
14 -7%
30 -10%
Special Offers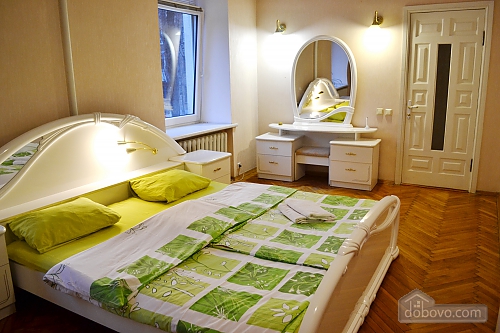 No reviews for this apartment