Stylish apartment in Pechersk
(Studio)
59924
About the apartment:
| Adress: | Floor: | Max. guests: | Sq. Area: | Min. Stay: |
| --- | --- | --- | --- | --- |
| 8 Rybalska Street, Kiev | 6 | 3 persons | 52 sq. m. | 3 nights |
Sleeping Areas Available:
1

double bed

1

single sofa bed
Description:
The apartment is in a new house with high ceilings (2.5 m). The stylish apartment is made in a modern design. It is possible to accommodate 3 guests (sleeping places: 2+1). There are air conditioning, plasma TV, kitchen appliances present. The bathroom has elegant bathware.
Main Facilities
TV Set - WiFi - Lift/elevator or 1-2 floor - Flat Screen TV - Cable/Satellite TV - Free Internet - Air Conditioning
Additional Services
Additional cleaning upon request
Apartment Amenities & Features
View to the street - Hot water boiler - Central heating - Internet access: Wireless
Apartment Management Features
Cleaning once per week
Bathroom
Bidet - Wash-basin - Mirror - Hair Dryer - Shower - Full-size bathtub
Building & Surroundings
Lift/elevator - Entrance from the street
Key Delivery
In the apartment upon arrival
Kitchen
Kitchen Wastebasket - Electric kettle - Cooker hood - Fridge - Oven - Dining table - Stove
Living-room
TV Stand - Double bed - Pictures - Sofa-bed for 1 person - Cable TV - Flat Screen TV Set - Air Conditioner
Location
Grocery store/supermarket nearby - Tourist sights nearby - ATM nearby - Restaurant(s) - City-bus stop nearby - Mini-market nearby
Reception Information & Features
Reception - limited hours - Russian-speaking staff only (no English-speaking staff)
Transport Services & Parking
Free parking (not guarded) - Transfer service from and/or to the airport
House rules:
Курение запрещено! Проживание с питомцами запрещено! Проведение вечеринок и мероприятий запрещено! Не подходит для детей младше 2 лет. Время заезда: с 13:00 до 18:00. Время выезда: до 12:00. Ранний выезд (до 8:00) возможен за дополнительную плату. Самостоятельное поселение после 19:00 возможно на рецепции (охране), которая находится недалеко от апартаментов. Поселение после 23:00 возможно только при заказе трансфера, цену уточните у менеджера. Просьба указывать время прибытия при бронировании. Своей парковки нет. Мы взимаем залог за сохранность имущества в сумме 1000 UAH (после того, как мы проверим квартиру при выезде, мы её возвращаем). Паління заборонено! Проживання з домашніми улюбленцями заборонено! Проведення вечірок і заходів заборонено! Не підходить для дітей віком до 2 років. Час заїзду: з 13:00 до 18:00. Час виїзду: до 12:00. Ранній виїзд (до 8:00) можливий за додаткову плату. Самостійне поселення после 19:00 можливо на рецепції (охороні), яка знаходиться недалеко від апартаментів. Поселення після 23:00 можливо тільки при замовленні трансферу, ціну треба запитати у менеджера. Прохання вказувати час прибуття при бронюванні. Свого паркувального місця немає. Ми стягуємо заставу за збереження майна в сумі 1000 UAH (після того, як ми перевіримо квартиру при виїзді, ми її повертаємо). No smoking! Accommodation with pets is prohibited! Parties and events are forbidden! Not suitable for children under 2 years. Check-in time: from 13:00 to 18:00. Check-out time: till 12:00. Early check-out (before 8:00) is available at an additional cost. You can check-in after 19:00 at the reception desk (guard), which is located near the apartments. Settlement after 23:00 is possible only when ordering a transfer, ask the manager for a price. Please specify the time of your arrival when booking. There is no parking lot. We charge a deposit for the safety of property in the amount of 1000 UAH (after we check the apartment upon departure, we return it to you).
Places nearby:
City Center (Khreschatyk Str)

(1.78km)

Independence Square

(2.16km)

Arena City Entertainment

(1.71km)

Kiev Borispol Airport (KBP)

(27.15km)

Train Station

(3.85km)

Kiev Bus Station

(3.47km)

Kiev Expo Plaza

(10.67km)

Kiev International Exhibition Center

(3.96km)

Expocenter of Ukraine

(7.58km)

Kiev Zhuliany Airport (IEV)

(8.08km)

Metro Poznyaky

(7.66km)

Olympic Republican Stadium

(1.49km)

Kontraktova Square

(3.81km)

NSC Olimpiyskiy Stadium

(1.49km)
Availability calendar
| Mon | Tue | Wed | Thu | Fri | Sat | Sun |
| --- | --- | --- | --- | --- | --- | --- |
| | | | | | | |
| | | | | | | |
| | | | | | | |
| | | | | | | |
| | | | | | | |
| | | | | | | |
Discounts
No Special Offers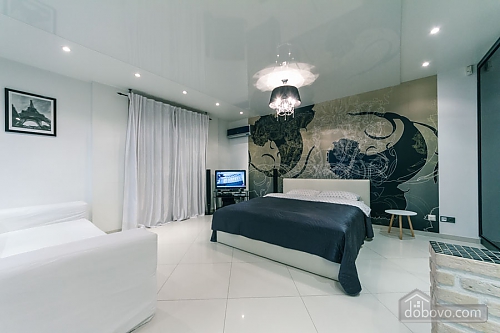 No reviews for this apartment