Luxury class apartment
(One bedroom)
61578
About the apartment:
| Adress: | Floor: | Max. guests: | Sq. Area: | Min. Stay: |
| --- | --- | --- | --- | --- |
| 36B Heroiv Dnipra Street, Kyiv | 2 | 5 persons | 49 sq. m. | 2 nights |
Sleeping Areas Available:
1

double bed

1

double sofa bed

1

single bed
Description:
The apartment is renovated in the Art Nouveau style; it is located on the second floor of a 9-storey building, it is in a 5-minute walk from the Heroiv Dnipra metro station. Nearby there are: car parks, public transport stops, ATB supermarket, Obolon market, Dream Town 2 shopping center with a water park. Also at a distance of 800 m from the house Obolonska embankment with city beaches are situated. Comfort and amenities: Luxury apartment with two separate rooms is designed for five people. Sleeping places: a large double sofa, a double bed with an orthopedic mattress, an European-quality folding bed on the slats. The apartment has the necessary utensils. The apartment has standard equipment: 2 double beds, 3 bath towels, 3 double blankets, 5 pillows, necessary utensils. Household appliances: refrigerator, hob, oven, microwave, iron, hairdryer, two air conditioners, washing machine, bathtub, boiler, two LCD TVs, Wi-Fi zone.   Recommendations: when settling into an apartment, check with the manager for information that will make your stay comfortable, namely: where to go, what to see; location of transport stops, parking, shops.
Main Facilities
Lift/elevator or 1-2 floor - Laundry washer - TV Set - Cable/Satellite TV - WiFi - Air Conditioning
Additional Services
Extra bed (air mattress or camp-cot) available on request - Extra linens and towels available on request - Additional cleaning upon request
Apartment Amenities & Features
Hot water boiler - Central heating - Internet access: Wireless - View to the street - Clothes dryer - Iron & Ironing board - Door intercom phone - Terrace/Balcony/Loggia
Apartment Management Features
Accounting documents - No cleaning included
Bathroom
Mirror - Hair Dryer - Laundry washer - Shower cabin - Wash-basin
Bedroom
Double bed - Cable TV - Flat Screen TV Set
Building & Surroundings
Lift/elevator - Entrance from the street
Kitchen
Glasses - Dishes - Dining table - Cookware - Electric kettle - Fridge - Oven - Microwave - Kitchen Wastebasket - Stove - Spatula & Spoon - Cutting board - Corkscrew - Cooker hood - Salt & Pepper shakers - Frying pan - Pan(s) - Knife(s) - Flatware
Living-room
Mirror - Magazine table - Wardrobe - Sofa-bed for 2 persons - Cable TV - Flat Screen TV Set - Air Conditioner
Location
Stadium nearby - Gym nearby - Drugstore nearby - Nightclub(s) - Bar(s)/Cafe - Restaurant(s) - Beach (10-20 minutes walking) - Trolley-bus stop nearby - City-bus stop nearby - Grocery store/supermarket nearby - Metro station nearby - ATM nearby - Bank nearby
Reception Information & Features
Russian-speaking staff only (no English-speaking staff)
Transport Services & Parking
Free parking (not guarded)
House rules:
Заселение. Согласовав по телефону все условия по выбранному Вами жилью, Вы получаете ключи, приехав непосредственно по адресу квартиры или в другом, удобном для Вас месте. В момент поселения Вы предъявляете свой паспорт. Время выезда и заезда в квартиру - с 14:00 до 12:00 (сутки, 22 часа). Время выезда – до 12:00. Время заезда — с 14:00. Индивидуально с Вами мы можем оговорить время более позднего выезда или наоборот, более раннего заезда в квартиру. Мы можем пойти Вам на уступки, если имеется такая возможность. В стоимость оплаченной Вами квартиры включено оговоренное с нами количество комплектов постельного белья, полотенец; также кухонные принадлежности, электроснабжение, горячая и холодная вода. Вы можете заказать дополнительную уборку квартиры за отдельно внесенную Вами плату. В последний день Вашего пребывания в квартире, но не позднее, чем за час до отъезда, Вы предупреждаете нас об этом. В оговоренное время Вы можете сдать нам квартиру и ключи. Мы предоставляем отчетную документацию для Вашей бухгалтерии. Заселення. Узгодивши по телефону всі умови по обраному Вами житлу, Ви отримуєте ключі, приїхавши безпосередньо за адресою квартири або в іншому, зручному для Вас місці. У момент поселення Ви пред'являєте свій паспорт. Час виїзду і заїзду в квартиру - з 14:00 до 12:00 (доба, 22 години). Час виїзду - до 12:00. Час заїзду - з 14:00. Індивідуально з Вами ми можемо домовитися про час більш пізнього виїзду або навпаки, більш раннього заїзду в квартиру. Ми можемо піти Вам на поступки, якщо є така можливість. У вартість оплаченої Вами квартири включено обумовлену з нами кількість комплектів постільної білизни, рушників; також кухонне приладдя, електропостачання, гаряча і холодна вода. Ви можете замовити додаткове прибирання квартири за окремо внесену Вами плату. В останній день Вашого перебування в квартирі, але не пізніше, ніж за годину до від'їзду, Ви попереджуєте нас про це. В обумовлений час Ви можете здати нам квартиру і ключі. Ми надаємо звітну документацію для Вашої бухгалтерії.
Places nearby:
City Center (Khreschatyk Str)

(8.76km)

Independence Square

(7.98km)

Arena City Entertainment

(8.88km)

Kiev Borispol Airport (KBP)

(34.15km)

Train Station

(9.06km)

Kiev Bus Station

(12.73km)

Kiev Expo Plaza

(9.16km)

Kiev International Exhibition Center

(9.81km)

Expocenter of Ukraine

(15.75km)

Kiev Zhuliany Airport (IEV)

(13.5km)

Metro Poznyaky

(16.36km)

Olympic Republican Stadium

(9.66km)

Kontraktova Square

(6.27km)

NSC Olimpiyskiy Stadium

(9.66km)
Availability calendar
| Mon | Tue | Wed | Thu | Fri | Sat | Sun |
| --- | --- | --- | --- | --- | --- | --- |
| | | | | | | |
| | | | | | | |
| | | | | | | |
| | | | | | | |
| | | | | | | |
| | | | | | | |
Discounts
2 -3%
3 -5%
7 -6%
10 -8%
14 -10%
30 -13%
No Special Offers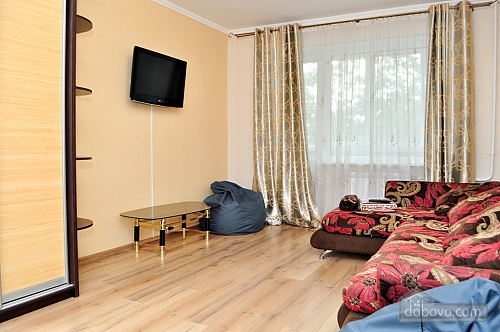 No reviews for this apartment