Business apartments near Obolon metro station
(Studio)
61619
About the apartment:
| Adress: | Floor: | Max. guests: | Sq. Area: | Min. Stay: |
| --- | --- | --- | --- | --- |
| 8 Marshala Malynovskoho Street, Kiev | 10 | 3 persons | 43 sq. m. | 1 night |
Sleeping Areas Available:
1

double bed

1

single sofa bed
Description:
Bright, clean, comfortable studio apartment. Number of sleeping places: 2+1 (double bed and folding chair). The apartment has all necessary appliances. There are a washing machine, air conditioning, electric kettle, TV, iron, ironing board, hairdryer, boiler, air conditioning, Wi-Fi. Bath, bed and kitchen utensils are provided. The house is located in a quiet, green area with developed infrastructure. The Obolon metro station is just 150 meters away. There are paid and free parking, bowling club, Obolonska embankment.
Main Facilities
Lift/elevator or 1-2 floor - Laundry washer - TV Set - Cable/Satellite TV - WiFi - Air Conditioning
Additional Services
Additional cleaning upon request
Apartment Amenities & Features
Door intercom phone - Terrace/Balcony/Loggia - Hot water boiler - Central heating - View to the street - Iron & Ironing board - Clothes dryer
Apartment Management Features
No cleaning included
Bathroom
Mirror - Hair Dryer - Laundry washer - Shower cabin - Wash-basin
Building & Surroundings
Concierge - Magnetic lock - Lift/elevator - Brand new building (less than 5 years old) - Entrance from the yard
Kitchen
Knife(s) - Flatware - Dining table - Glasses - Dishes - Cookware - Electric kettle - Fridge - Stove - Kitchen Wastebasket - Potholders - Spatula & Spoon - Cooker hood - Cutting board - Corkscrew - Salt & Pepper shakers - Frying pan - Pan(s)
Living-room
Pot flowers - Desk - Chair-bed for 1 person - Cable TV - Flat Screen TV Set - TV Stand - Air Conditioner - Double bed - Armchair
Location
SPA/beauty salon nearby - Bank nearby - Stadium nearby - Gym nearby - Drugstore nearby - Bar(s)/Cafe - Restaurant(s) - Beach (5-10 minutes walking) - Park - Trolley-bus stop nearby - City-bus stop nearby - Grocery store/supermarket nearby - Metro station nearby - ATM nearby
Reception Information & Features
Russian-speaking staff only (no English-speaking staff)
Transport Services & Parking
Free parking (not guarded) - Private parking - Guarded car park
House rules:
Залоговая сумма - 100 USD (возвращается при выезде). Обязательно иметь оригинал паспорта при заселении (для оформления договора). Курение в квартире категорически запрещено. Штраф в размере залоговой суммы! Возрастное ограничение - от 25 лет. Время выселения - до 12:00. Время заселения - после 14:00. Ранний заезд и поздний выезд оговаривается заранее. Уборка проводится перед поселением. Аренда квартиры для празднования невозможна. Проживание с животными запрещено. Квартира не сдается для празднований дня рождения, свадеб, юбилеев, вечеринок и подобных мероприятий. Квартира предназначена только для проживания. В случае несоблюдения условий договора, нарушения порядка или жалоб от соседей, администрация оставляет за собой право выселения вас из арендуемой квартиры без возмещения оплаты за проживание. The security deposit is 100 USD (returned upon check-out). It is obligatory to have the original passport at check-in (for registration of the contract). Smoking in the apartment is strictly prohibited. The penalty at a rate of the pledge sum! Age limit is from 25 years. Check-out time - till 12:00. Check-in time - after 15:00. Early check-in and late check-out are agreed in advance. Cleaning is carried out before the check-in. Rent an apartment for celebration is impossible. Pets are not allowed. The apartment is not rented for celebrations of birthday, weddings, anniversaries, parties and similar events. The apartment is suitable for living only. In the case of non-compliance with the terms of the contract, violation of order or complaints from neighbors, the administration reserves the right to evict you from the rented apartment without refund of payment for accommodation. Заставна сума - 100 USD (повертається при виїзді). Обов'язково мати оригінал паспорта при заселенні (для оформлення договору). Куріння в квартирі категорично заборонено. Штраф у розмірі заставної суми! Вікове обмеження - від 25 років. Час виселення - до 12:00. Час заселення - після 15:00. Ранній заїзд та пізній виїзд обговорюється заздалегідь. Прибирання проводиться перед поселенням. Оренда квартири для святкування неможлива. Проживання з тваринами заборонено. Квартира не здається для святкувань дня народження, весіль, ювілеїв, вечірок і подібних заходів. Квартира призначена тільки для проживання. У разі недотримання умов договору, порушення порядку або скарг від сусідів, адміністрація залишає за собою право виселення вас із орендованої квартири без відшкодування оплати за проживання.
Places nearby:
City Center (Khreschatyk Str)

(6.77km)

Independence Square

(6.05km)

Arena City Entertainment

(6.88km)

Kiev Borispol Airport (KBP)

(33.57km)

Train Station

(6.81km)

Kiev Bus Station

(10.65km)

Kiev Expo Plaza

(7.32km)

Kiev International Exhibition Center

(8.8km)

Expocenter of Ukraine

(13.49km)

Kiev Zhuliany Airport (IEV)

(11.18km)

Metro Poznyaky

(15.11km)

Olympic Republican Stadium

(7.64km)

Kontraktova Square

(4.34km)

NSC Olimpiyskiy Stadium

(7.64km)
Availability calendar
| Mon | Tue | Wed | Thu | Fri | Sat | Sun |
| --- | --- | --- | --- | --- | --- | --- |
| | | | | | | |
| | | | | | | |
| | | | | | | |
| | | | | | | |
| | | | | | | |
| | | | | | | |
Discounts
2 -1%
3 -2%
10 -3%
14 -5%
30 -10%
No Special Offers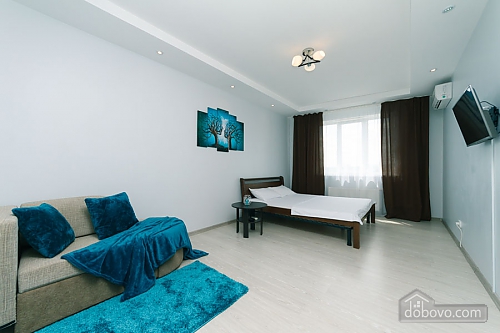 No reviews for this apartment