Wonderful luxury apartment in the city center
(One bedroom)
64328
About the apartment:
| Adress: | Floor: | Max. guests: | Sq. Area: | Min. Stay: |
| --- | --- | --- | --- | --- |
| 12 Lesi Ukrainky Boulevard, Kiev | 7 | 4 persons | 48 sq. m. | 3 nights |
Sleeping Areas Available:
1

double bed

1

double sofa bed
Description:
One-bedroom luxury apartment is located next to Klovska and Pecherska metro stations. The apartment is on the 7th floor of a 9-storey building. The apartment has designer renovation. Layout: bedroom and living room-studio, bathroom - jacuzzi. The apartment is fully furnished and equipped with necessary appliances for comfortable living. To services of visitors: the TV, a microwave, a jacuzzi with hydromassage, the conditioner, the washing machine, a kettle, an iron, the hair dryer, slippers. Wi-Fi Internet access is available. Location: the apartment is located within walking distance from Bessarabska square, SEC Gulliver, Arena-city, Mandarin Plaza, to Khreshchatyk - 15 minutes on foot. If you have health problems and you have not a healthy lifestyle this apartment is not for you. Unfortunately the elevator periodically breaks down and it does not depend on us. But we will help with your luggage. We are waiting for active guests!
Main Facilities
Cable/Satellite TV - TV Set - Free Internet - WiFi - Air Conditioning - Lift/elevator or 1-2 floor - Jacuzzi - Laundry washer - Flat Screen TV
Additional Services
Additional cleaning upon request
Apartment Amenities & Features
View to the yard - Hot water boiler - Picturesque view from windows - Central heating - Internet access: Wireless - Clothes dryer - Iron & Ironing board - Door intercom phone - Terrace/Balcony/Loggia
Apartment Management Features
No cleaning included
Bathroom
Mirror - Hair Dryer - Shower - Wash-basin - Jacuzzi bathtub
Bedroom
Double bed - Cable TV - Flat Screen TV Set - Wardrobe - Air Conditioner - Mirror
Building & Surroundings
Magnetic lock - Lift/elevator - Entrance from the yard
Key Delivery
In the apartment upon arrival
Kitchen
Fridge - Microwave - Stove - Cooker hood - Laundry washer - Potholders - Cutting board - Corkscrew - Flatware - Glasses - Dishes - Cookware - Electric kettle
Living-room
Fireplace (artificial) - Armchair - Wardrobe - Pictures - Carpet - Magazine table - Double bed - Coffee table - Mirror - Sofa-bed for 2 persons - Cable TV - Flat Screen TV Set - Air Conditioner
Location
Tourist sights nearby - 4-star hotel nearby - Nightclub(s) - Grocery store/supermarket nearby - Bar(s)/Cafe - Restaurant(s) - Park - ATM nearby - Trolley-bus stop nearby - Bank nearby - City-bus stop nearby - Metro station nearby - Drugstore nearby - SPA/beauty salon nearby - Stadium nearby - Gym nearby
Reception Information & Features
Russian-speaking staff only (no English-speaking staff)
Transport Services & Parking
Free parking (not guarded) - Guarded car park
House rules:
31 декабря и 1 января поселение/выселение не проводится. Время заезда - с 14:00 или обсуждается с владельцем квартиры. Выезд должен быть осуществлён в 12:00. При позднем выезде, в зависимости от времени суток, будет варьироваться цена. Если вы поселяетесь на ночь - оплачивается полная стоимость суток проживания. Время заезда обсуждается с владельцем квартиры. При заезде взимается залоговый депозит в размере 100 USD, который возвращается в день выезда. Депозит не возвращается, если в квартире был сильный запах сигаретного дыма в момент выезда или шум после 23:00. Заселение возможно до 00:00. Уважаемые гости (особенно не русскоговорящие), перед тем как вносить предоплату, большая просьба связаться с хозяином для уточнения возможности ночного заселения. Минимальное количество ночей - 2. 31 грудня та 1 січня поселення/виселення не проводиться. Час заїзду - с 14:00 або обговорюється з власником квартири. Виїзд повинен бути здійснений об 12:00. При пізньому виїзді, в залежності від часу доби, буде варіюватися ціна. Якщо ви поселяєтесь на ніч - оплачується повна вартість доби проживання. Час заїзду обговорюється з власником квартири. При заїзді стягується заставний депозит в розмірі 100 USD, який повертається в день виїзду. Депозит не повертається, якщо в квартирі був сильний запах цигаркового диму в момент виїзду або шум після 23:00. Заселення можливе до 00:00. Шановні гості (що особливо не російськомовні), перед тим як вносити передоплату, велике прохання зв'язатися з господарем для уточнення можливості нічного заселення. Мінімальна кількість ночей - 2. No check-in/out is possible on December 31st and January 1st. Check-in time is from 14:00 or is discussed with the apartment owner. Check-out should be performed at 12:00. Price may change depending on time of the day if you are checking out late. If you wish to stay only for the night you should pay the whole sum for a hotel day. Check-in time is discussed with the owner. No smoking! Do not make noise after 23:00. Insurance deposit of 100 USD is charged upon check-in. The deposit is not refundable if the apartment was smoked or if you break the silence after 23:00. Check-in is possible until 00:00. Dear guests (especially not Russian speakers), before making a prepayment, please contact the owner in order to clarify the possibility of a night check-in. Minimum number of nights is 2.
Places nearby:
City Center (Khreschatyk Str)

(1.03km)

Independence Square

(1.7km)

Arena City Entertainment

(0.93km)

Kiev Borispol Airport (KBP)

(28.02km)

Train Station

(2.94km)

Kiev Bus Station

(3.23km)

Kiev Expo Plaza

(9.8km)

Kiev International Exhibition Center

(4.76km)

Expocenter of Ukraine

(7.13km)

Kiev Zhuliany Airport (IEV)

(7.27km)

Metro Poznyaky

(8.49km)

Olympic Republican Stadium

(0.59km)

Kontraktova Square

(3.42km)

NSC Olimpiyskiy Stadium

(0.59km)
Availability calendar
| Mon | Tue | Wed | Thu | Fri | Sat | Sun |
| --- | --- | --- | --- | --- | --- | --- |
| | | | | | | |
| | | | | | | |
| | | | | | | |
| | | | | | | |
| | | | | | | |
| | | | | | | |
Discounts
5 -5%
7 -7%
14 -10%
30 -15%
No Special Offers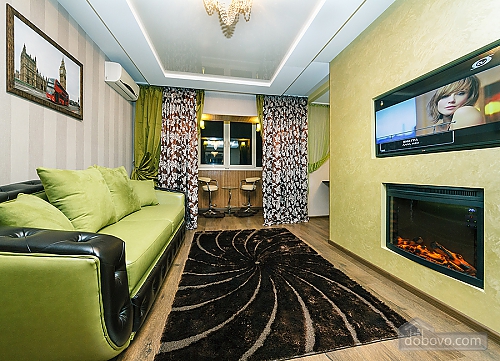 No reviews for this apartment