Apartment in Obolon
(Studio)
64446
About the apartment:
| Adress: | Floor: | Max. guests: | Sq. Area: | Min. Stay: |
| --- | --- | --- | --- | --- |
| 19A Heroiv Stalinhradu Avenue, Kiev | 1 | 3 persons | 39 sq. m. | 1 night |
Sleeping Areas Available:
1
double bed
Description:
The apartment on 19A Heroiv Stalinhradu is located on the first floor of a nine-story building in the prestigious Obolon district. In two minutes walk from the apartment there is a 24-hour hypermarket Silpo, supermarket Good Wine, Zhovte More, Domino's pizza. Convenient transport interchange: to Obolon metro station - eight minutes from the house, parking - 500 m (is located on 27B Heroiv Stalinhradu), public transport stop - in front of the house. Obolonska embankment with city beaches - 300 m from the apartment. Comfort and amenities: a cozy studio apartment with renovation, has three full sleeping places, which are a spacious double bed and a comfortable folding clamshell, which is provide at the request of residents. In the apartments there is internet Wi-Fi, necessary utensils, bed linen and towels. Hot water is available round the clock (central water supply), an additional boiler is installed. Standard set of home appliances: LCD TV, air conditioning, iron, microwave, hairdryer, washing machine, refrigerator, gas stove. The cost of the apartment, as in all our other apartments, includes utility bills.
Main Facilities
Lift/elevator or 1-2 floor - Laundry washer - TV Set - Cable/Satellite TV - WiFi - Air Conditioning
Additional Services
Additional cleaning upon request - Extra bed (air mattress or camp-cot) available on request - Extra linens and towels available on request
Apartment Amenities & Features
Iron & Ironing board - Clothes dryer - Terrace/Balcony/Loggia - Hot water boiler - Central heating - Internet access: Wireless - View to the street - Picturesque view from windows
Apartment Management Features
No cleaning included - Accounting documents
Bathroom
Wash-basin - Mirror - Hair Dryer - Shower - Full-size bathtub
Building & Surroundings
Lift/elevator - Entrance from the street
Kitchen
Frying pan - Pan(s) - Knife(s) - Cooker hood - Flatware - Glasses - Dishes - Cookware - Electric kettle - Fridge - Dining table - Oven - Laundry washer - Microwave - Stove - Kitchen Wastebasket - Spatula & Spoon - Cutting board - Corkscrew
Living-room
Wardrobe - TV Stand - Double bed - Magazine table - Cable TV - Flat Screen TV Set - Air Conditioner
Location
Metro station nearby - ATM nearby - Bank nearby - Drugstore nearby - Restaurant(s) - Beach (5-10 minutes walking) - Park - Trolley-bus stop nearby - City-bus stop nearby
Reception Information & Features
Russian-speaking staff only (no English-speaking staff)
Transport Services & Parking
Free parking (not guarded)
House rules:
- Расчетным временем въезда принято считать 14:00 (22 часа считаются как полные сутки аренды жилья). Даже при въезде позже 14:00, время выезда остается неизменным – 12:00. - Ранее поселение (с 00:00 до 11:00) осуществляется при условии оговоренной дополнительной оплаты. - Позднее выселение (с 14:00 до 23:00) возможно за дополнительную оплату. В отдельных случаях мы можем пойти вам навстречу, позволив бесплатно более позднее время выезда при условии, что квартира не будет еще забронирована кем-то другим. Индивидуально с Вами мы можем оговорить время более позднего выезда или наоборот, более раннего времени заезда в квартиру. - Розрахунковим часом в'їзду прийнято вважати 14:00 (22 години вважаються як повна доба оренди житла). Навіть при в'їзді пізніше 14:00, час виїзду залишається незмінним - 12:00. - Раннє поселення (з 00:00 до 11:00) здійснюється за умови обговореної додаткової оплати. - Пізнє виселення (з 14:00 до 23:00) можливе за додаткову оплату. В окремих випадках ми можемо піти вам назустріч, дозволивши безкоштовно більш пізній час виїзду за умови, що квартира не буде ще заброньована кимось іншим. Індивідуально з Вами ми можемо домовитися про час більш пізнього виїзду або навпаки, більш раннього часу заїзду в квартиру. - The estimated time of check-in is considered to be 14:00 (22 hours are considered as a full day). Even at the check-in after 14:00, the time of check-out remains unchanged - 12:00. - Earlier check-in (from 00:00 to 11:00) is possible for an additional payment. - Later check-out (from 14:00 to 23:00) is possible for an additional payment. In some cases, we can allow you a later check-out free of charge provided that the apartment is not yet booked by someone else. We can specify the time of later departure or vice versa, the earlier time of arrival in the apartment individually with you.
Places nearby:
City Center (Khreschatyk Str)

(7km)

Independence Square

(6.21km)

Arena City Entertainment

(7.12km)

Kiev Borispol Airport (KBP)

(32.97km)

Train Station

(7.37km)

Kiev Bus Station

(10.96km)

Kiev Expo Plaza

(8.4km)

Kiev International Exhibition Center

(8.36km)

Expocenter of Ukraine

(14.05km)

Kiev Zhuliany Airport (IEV)

(11.97km)

Metro Poznyaky

(14.82km)

Olympic Republican Stadium

(7.89km)

Kontraktova Square

(4.51km)

NSC Olimpiyskiy Stadium

(7.89km)
Availability calendar
| Mon | Tue | Wed | Thu | Fri | Sat | Sun |
| --- | --- | --- | --- | --- | --- | --- |
| | | | | | | |
| | | | | | | |
| | | | | | | |
| | | | | | | |
| | | | | | | |
| | | | | | | |
Discounts
2 -3%
3 -5%
7 -6%
10 -8%
14 -10%
30 -13%
No Special Offers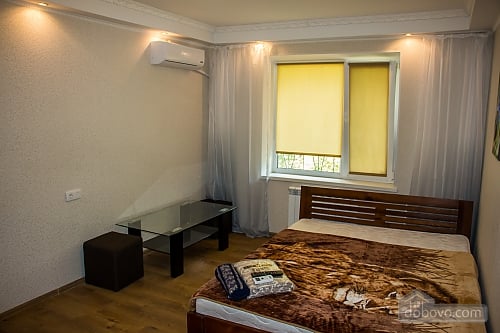 No reviews for this apartment