Apartment in Chabany
(One bedroom)
65105
About the apartment:
| Adress: | Floor: | Max. guests: | Sq. Area: | Min. Stay: |
| --- | --- | --- | --- | --- |
| 1B Mashynobudivnykiv Street, Kiev | 5 | 2 persons | 33 sq. m. | 2 nights |
Sleeping Areas Available:
2
double sofa bed
Description:
For those who appreciate comfort. 5/9 floor in a large beautiful clean new residential complex. View from the window to the park area. Everything is new and modern. French stretch ceilings, versatile lighting, led lighting around the perimeter of the entire apartment, windows Rehau, Spanish ceramic tiles with water-heated, 100 l boiler, iron bath 175*85 cm, console, air conditioning, toilet bowl, washing machine to 6 kg, LCD TV 32", integrated touch-sensitive surface, electro-hood microwave oven, refrigerator Samsung, high-speed Internet Wi-Fi, built-in Italian electronic safe, armoured door, interphone, 2 folding sofas, all built-in furniture and modern appliances. Beautiful, modern entrance and elevator. Bus stop - 300m from the house. Metro station Teremki is in two stops (5 minutes) on any bus! The centre is in 15 minutes without turning. Quiet, beautiful, ecologically clean place: park with playgrounds and a lake near the house. Good infrastructure. Modern playgrounds, minimarkets, supermarket Fora, the notary, banks, cafes, sauna, beauty salons, children's hospital, 3 pharmacies, police station.
Main Facilities
TV Set - Cable/Satellite TV - WiFi - Free Internet - Air Conditioning - Lift/elevator or 1-2 floor - Laundry washer - Flat Screen TV
Additional Services
Additional cleaning upon request
Apartment Amenities & Features
Clothes dryer - Iron & Ironing board - Door intercom phone - Hot water boiler - Central heating - Safe - Internet access: Wireless - Internet access: High-speed
Apartment Management Features
No cleaning included
Bathroom
Mirror - Hair Dryer - Shower - Full-size bathtub - Wash-basin
Bedroom
Sofa-bed for 2 persons - Cable TV - Flat Screen TV Set - Wardrobe - TV Stand - Air Conditioner - Mirror
Building & Surroundings
Magnetic lock - Lift/elevator - New building (5-10 years old) - Entrance from the yard
Key Delivery
In the apartment upon arrival
Kitchen
Microwave - Stove - Laundry washer - Coffee maker - Cooker hood - Kitchen Wastebasket - Cutting board - Corkscrew - Knife(s) - Flatware - Glasses - Dishes - Cookware - Electric kettle - Fridge
Living-room
Wardrobe - Armchair - Magazine table - Sofa-bed for 2 persons - Cable TV - Flat Screen TV Set - Mirror
Location
Bar(s) - Restaurant(s) - Grocery store/supermarket nearby - Beach (up to 5 minutes walking) - SPA/beauty salon nearby - Park - Mini-market nearby - Bar(s)/Cafe - City-bus stop nearby - Metro station nearby - ATM nearby - Bank nearby - Spa/Wellness Center nearby - Stadium nearby - Drugstore nearby - Gym nearby - Tourist sights nearby - Exhibition Center nearby
Reception Information & Features
City tour
Transport Services & Parking
Transfer service from and/or to the railway station - Transfer service from and/or to the airport - Transfer services - Rent a car with a driver - Free parking (not guarded)
House rules:
Буду рада некурящей паре без животных или маме с ребёнком! Курение и массовые гуляния запрещены. Моя квартира предназначена для уютного спокойного проживания. Соседи услышав шум после 23:00 вызовут милицию. Для веселья поищите пожалуйста другую квартиру. Буду рада парам без тварин і які не палять або мамі з дитиною! Куріння і масові гуляння заборонені. Моя квартира призначена для затишного спокійного проживання. Сусіди чуючи шум після 23:00 викликають міліцію. Для веселощів пошукайте будь ласка іншу квартиру. I'd be happy to non-smoker couples without animals or mother with a child! Smoking and mass celebrations are prohibited. My apartment is designed for a cozy and quiet stay. Neighbors hearing a noise after 23:00 will call the police. For fun, please look for another apartment.
Places nearby:
City Center (Khreschatyk Str)

(12.82km)

Independence Square

(13.65km)

Arena City Entertainment

(12.73km)

Kiev Borispol Airport (KBP)

(33.42km)

Train Station

(11.51km)

Kiev Bus Station

(9.65km)

Kiev Expo Plaza

(14.08km)

Kiev International Exhibition Center

(16.75km)

Expocenter of Ukraine

(5.44km)

Kiev Zhuliany Airport (IEV)

(7.03km)

Metro Poznyaky

(16.06km)

Olympic Republican Stadium

(12.09km)

Kontraktova Square

(14.87km)

NSC Olimpiyskiy Stadium

(12.09km)
Availability calendar
| Mon | Tue | Wed | Thu | Fri | Sat | Sun |
| --- | --- | --- | --- | --- | --- | --- |
| | | | | | | |
| | | | | | | |
| | | | | | | |
| | | | | | | |
| | | | | | | |
| | | | | | | |
Discounts
2 -4%
3 -6%
7 -14%
30 -25%
No Special Offers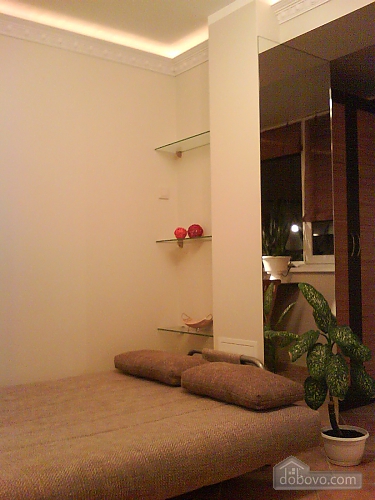 No reviews for this apartment