Apartment in a quiet courtyard
(One bedroom)
69935
About the apartment:
| Adress: | Floor: | Max. guests: | Sq. Area: | Min. Stay: |
| --- | --- | --- | --- | --- |
| 17B Antonovycha Street, Kiev | 3 | 2 persons | 56 sq. m. | 2 nights |
Sleeping Areas Available:
1
double bed
Description:
This lovely apartment is fully fitted and equipped for a comfortable stay. There are spacious rooms, good renovation, modern furniture. There are a double bed with orthopedic effect and a sofa bed in the living room. The apartment has all necessary appliances (washing machine, 2 TVs, microwave oven, electric kettle, fridge, iron, hair dryer), bed and bath accessories, dining and kitchen appliances in the kitchen. For a comfortable stay there is a small flat screen TV in the kitchen. Free unlimited high-speed Internet Wi-Fi is available. Location: near Lva Tolstoho metro station (up to 5 minutes), nearby there is a public transport stop. Within a walking distance from the capital's main street Khreschatyk and Shevchenka park (which has the status of a park a monument of landscape gardening art of local importance), the main red building of Kyiv National University of Taras Shevchenko, Olimpiiskyi national sports complex, Kyiv academic theatre of operetta, Kyiv planetarium, Kyiv cinema, as well as a great choice of shops, boutiques, restaurants, nightclubs and other entertainment centers of the capital. Photos of the apartment 100% correspondent to reality! We provide shuttle service on a request. By prior arrangement, we will be glad to meet you at the airport, railway station and to take you to the apartment. We have more apartments in the area (Total amount of apartments) - we will select the most suitable apartment for you! Provide reporting documents! Check-in at any time of the day!
Main Facilities
Credit cards accepted - Laundry washer - Flat Screen TV - Cable/Satellite TV - Free Internet - Air Conditioning - TV Set - WiFi
Additional Services
Laundry service - Extra bed (air mattress or camp-cot) available on request - Extra linens and towels available on request - Non-smoking apartments available upon request - Translator services - Additional cleaning upon request
Apartment Amenities & Features
Terrace/Balcony/Loggia - Terrace/Balcony - Central heating - View to the yard - Internet access: Wireless - Internet access: High-speed - Clothes dryer - Iron & Ironing board
Apartment Management Features
Credit card accepted - Accounting documents - Cleaning every 3 days
Bathroom
Mirror - Wash-basin - Hair Dryer - Laundry washer - Shower - Full-size bathtub
Bedroom
Double bed - Air Conditioner - Pictures
Building & Surroundings
Coded lock - Historic building - Entrance from the yard
Key Delivery
Pick up on the reception - In the apartment upon arrival
Kitchen
Spatula & Spoon - Cutting board - Dining table - Corkscrew - Salt & Pepper shakers - Frying pan - Pan(s) - Knife(s) - Laundry washer - Flatware - Cookware - Glasses - Cooker hood - Dishes - Fridge - Oven - Microwave - Stove - Kitchen Wastebasket - Potholders
Living-room
Pictures - Carpet - Magazine table - Cable TV - Flat Screen TV Set - Air Conditioner - Sofa - Armchair - TV Stand - Pot flowers
Location
City-bus stop nearby - Bar(s)/Cafe - Spa/Wellness Center nearby - Exhibition Center nearby - Drugstore nearby - 3-star hotel nearby - 4-star hotel nearby - Stadium nearby - 5-star hotel nearby - Gym nearby - Beach (by bus or taxi) - Mini-market nearby - Tourist sights nearby - Nightclub(s) - Bar(s) - Restaurant(s) - Park - Grocery store/supermarket nearby - ATM nearby - Trolley-bus stop nearby - SPA/beauty salon nearby - Bank nearby
Reception Information & Features
Reception in another building - Tourist information - Russian-speaking staff only (no English-speaking staff) - Reception - 24 hour - City maps
Transport Services & Parking
Transfer service from and/or to the railway station - Transfer service from and/or to the airport - Transfer services - Rent a car with a driver - Free parking (not guarded)
House rules:
1. Заезд - с 14:00. Выезд - до 12:00 (независимо от времени заезда). Если вы хотите заехать раньше стандартного времени (14:00), это возможно в случае, если квартира свободна и готова к поселению. Свяжитесь с нами до приезда для уточнения возможности раннего заезда. Если вам обязательно нужно заехать раньше 12 часов и вы хотите быть уверенными, что квартира будет свободна - забронируйте ее с предыдущих суток. В таком случае мы никому не будем ее предлагать и вы можете заехать в любое время. Оплата производиться при заселении + залоговая сумма в размере 1 суток (при выезде эта сумма возвращается, если вы не нарушили правила поведения в квартире) 2. Курение в квартире и на балконе строго запрещено. Штраф за курение в размере 100 USD будет удержан для генеральной уборки помещения. 3. Животные (Мы любим животных, но если вы приехали со своим маленьким другом, вы несёте полную ответственность за сохранность имущества). 4. Просьба не шуметь с 22:00 до 9:00. Вечеринки с громкой музыкой запрещены. 5. Просьба уважать мой дом, как свой, аккуратно обращаться с техникой, мебелью и посудой. 1. Check-in is from 14:00. Check-out - until 12:00 (regardless of the time of check-in). If you want to check-in earlier than standard time (14:00), this is possible in case the apartment is vacant and ready for check-in. Contact us before check-in to clarify the possibility of early check-in. If you need to check in before 12 o'clock and you want to be sure that the apartment will be free - book it from the previous day. In this case, we will not offer it to anyone and you can drop in at any time. Payment upon check-in + deposit amount of 1 day (this amount is refunded if you did not violate the rules of conduct in the apartment) 2. Smoking in the apartment and on the balcony is strictly prohibited. A fine for smoking in the amount of 100 USD will be withheld for general cleaning of the apartment. 3. Animals (if you come with your little friend, you are fully responsible for the safety of the property). 4. Please do not make noise from 22:00 to 9:00. Parties with loud music are prohibited. 5. Please respect my house as own, carefully handle the appliances, furniture and utensils.
Places nearby:
City Center (Khreschatyk Str)

(0.68km)

Independence Square

(1.51km)

Arena City Entertainment

(0.6km)

Kiev Borispol Airport (KBP)

(29.07km)

Train Station

(1.88km)

Kiev Bus Station

(3.46km)

Kiev Expo Plaza

(8.75km)

Kiev International Exhibition Center

(5.64km)

Expocenter of Ukraine

(6.91km)

Kiev Zhuliany Airport (IEV)

(6.49km)

Metro Poznyaky

(9.53km)

Olympic Republican Stadium

(0.56km)

Kontraktova Square

(3.03km)

NSC Olimpiyskiy Stadium

(0.56km)
Availability calendar
| Mon | Tue | Wed | Thu | Fri | Sat | Sun |
| --- | --- | --- | --- | --- | --- | --- |
| | | | | | | |
| | | | | | | |
| | | | | | | |
| | | | | | | |
| | | | | | | |
| | | | | | | |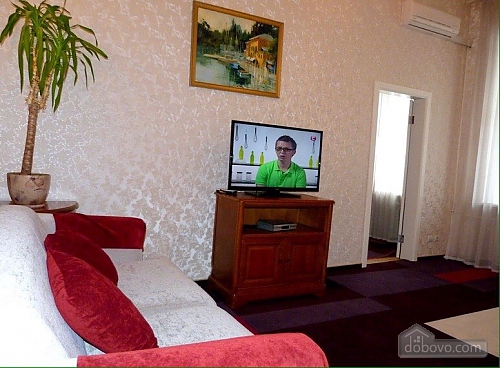 No reviews for this apartment