Beautiful apartment near the embassy
(One bedroom)
81334
About the apartment:
| Adress: | Floor: | Max. guests: | Sq. Area: | Min. Stay: |
| --- | --- | --- | --- | --- |
| 41 Mashynobudivna Street, Kiev | 11 | 4 persons | 52 sq. m. | 4 nights |
Sleeping Areas Available:
1

double bed

1

double sofa bed
Description:
Comfortable studio apartment in a new building. The nearest metro stations are Beresteiska and Shuliavska. The number of sleeping places - 4 (double bed and double sofa). There are ​new home appliances. There are various institutions nearby: KPI, NAU, Okhmatdyt. It takes about 15 minutes to go to Khreschatyk.
Main Facilities
Lift/elevator or 1-2 floor - Laundry washer - Flat Screen TV - Cable/Satellite TV - Free Internet - TV Set - Air Conditioning - WiFi
Additional Services
Extra linens and towels available on request - Non-smoking apartments available upon request - Ironing facilities on request - Hairdryer on request - Additional cleaning upon request
Apartment Amenities & Features
Internet access: Wireless - View to the yard - Clothes dryer - Hot water boiler - Autonomous heating
Apartment Management Features
Groups welcome - Cleaning every 3 days - Accounting documents
Bathroom
Mirror - Laundry washer - Shower cabin - Wash-basin
Building & Surroundings
Concierge - Lift/elevator - Brand new building (less than 5 years old) - Entrance from the street
Key Delivery
Pick up on the reception
Kitchen
Cookware - Electric kettle - Fridge - Microwave - Kitchen Wastebasket - Stove - Potholders - Spatula & Spoon - Cutting board - Corkscrew - Salt & Pepper shakers - Frying pan - Pan(s) - Knife(s) - Flatware - Glasses - Dishes
Living-room
Desk - Bar chairs - Bar table - Wardrobe - Sofa-bed for 2 persons - King-size bed - DVD - Satellite TV - Flat Screen TV Set - Air Conditioner
Location
Nightclub(s) - Bar(s) - Mini-market nearby - Grocery store/supermarket nearby - Restaurant(s) - SPA/beauty salon nearby - Trolley-bus stop nearby - Bar(s)/Cafe - City-bus stop nearby - ATM nearby - Spa/Wellness Center nearby - Bank nearby - Stadium nearby - Gym nearby - Drugstore nearby
Reception Information & Features
Russian-speaking staff only (no English-speaking staff) - Reception in the same building - Reception - 24 hour
Transport Services & Parking
Free parking (not guarded)
House rules:
Заезд - с 13:00. Выезд - до 12:00 (изменения можно оговаривать заранее). Требуется наличие документов, которые удостоверяют личность (наличие паспорта гражданина Украины для оформления договора). Есть страховой депозит - 500 UAH, возвращается при выезде при условии: - отсутствия материального ущерба квартиры; - отсутсвия неестественных загрязнений; - отсутствия жалоб соседей или вызова/приезда полиции по вине гостя; - если квартира не прокурена; - если гость не изменяет ранее оговоренные сроки проживания или количество проживающих не больше оговоренного. Нельзя курить (можно только на балконе при закрытых дверях). Проживание с животными запрещено. Запрещено ведение противозаконной деятельности. Нельзя проводить массовые мероприятия. Заїзд - з 13:00. Виїзд - до 12:00 (зміни можна обговорювати завчасно). Потрібна наявність документів, що посвідчують особу (наявність паспорта громадянина України для оформлення договору). Є страховий депозит - 500 UAH, повертається при виїзді за умови: - відсутності матеріальної шкоди; - відсутності неприродних забруднень; - відсутності скарг сусідів або виклику / приїзду поліції з вини гостя; - якщо квартира не прокурена; - якщо гість не змінює раніше обумовлені терміни проживання або кількість гостей не більша обумовленої. Не можна курити (можна тільки на балконі при закритих дверях). Проживання з тваринами заборонено. Заборонено ведення протизаконної діяльності. Не можна проводити масові заходи. Check-in is from 13:00. Check-out - till 12:00 (changes can be stipulated in advance). We need documents that certify the identity (the passport of a citizen of Ukraine for the execution of the contract). There is an insurance deposit - 500 UAH, is returned upon check-out for the conditions: - lack of material damage to the apartment; - absence of unnatural pollution; - no complaints from neighbors or call / arrival of the police through the fault of the guest; -if you did not smoke in the apartment ; - if the guest does not change the previously agreed terms of acommodation or the number of residents is not more than stipulated. You can not smoke (you can only on the balcony with the door closed). Pets are not allowed. It is forbidden to conduct illegal activities. You can not hold mass events.
Places nearby:
City Center (Khreschatyk Str)

(7.07km)

Independence Square

(7.26km)

Arena City Entertainment

(7.1km)

Kiev Borispol Airport (KBP)

(35.75km)

Train Station

(4.88km)

Kiev Bus Station

(8.47km)

Kiev Expo Plaza

(2.68km)

Kiev International Exhibition Center

(12.05km)

Expocenter of Ukraine

(8.69km)

Kiev Zhuliany Airport (IEV)

(4.8km)

Metro Poznyaky

(16.14km)

Olympic Republican Stadium

(7.27km)

Kontraktova Square

(6.99km)

NSC Olimpiyskiy Stadium

(7.27km)
Availability calendar
| Mon | Tue | Wed | Thu | Fri | Sat | Sun |
| --- | --- | --- | --- | --- | --- | --- |
| | | | | | | |
| | | | | | | |
| | | | | | | |
| | | | | | | |
| | | | | | | |
| | | | | | | |
Discounts
No Special Offers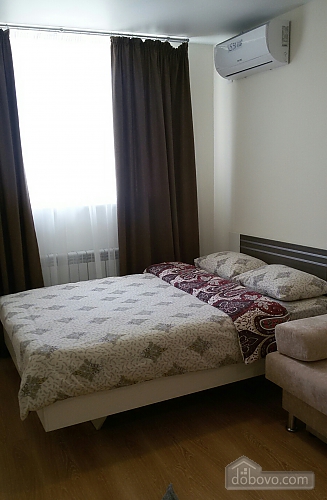 No reviews for this apartment