Home
Kiev apartments
Guest house with parking near beach and IEC - Deluxe family room, Studio (82140)
Guest house with parking near beach and IEC - Deluxe family room
(Studio)
82140
About the apartment:
| Adress: | Floor: | Max. guests: | Sq. Area: | Min. Stay: |
| --- | --- | --- | --- | --- |
| 18 3rd Sadovyi Lane, Kiev | 1 | 4 persons | 55 sq. m. | 2 nights |
Sleeping Areas Available:
1

double bed

1

double sofa bed
Description:
Family & Friends guest house is located in Kyiv, on the left bank of the Dnieper river, a 5-minute walk from a calm beach. Deluxe family room is located on the first floor of the guest house. Windows overlooking the courtyard with trees. Modern style is emphasized by new functional furniture and accessories. The room can simultaneously accommodate up to 4 people. The package includes a large oak double bed, a mahogany coffee table, a functional folding double sofa with niches for personal items, an oak clothes hanger, and a wooden wardrobe in which you can compactly place your belongings. From technology: air conditioning, 32-inch LCD-TV, connected to online cinemas and a variety of television channels that are provided free of charge. Modern individual bathroom with rain shower, bidet, and self-zone. Dining room with fully equipped kitchen - common to three rooms. The hall will accommodate a company of 6 people, as it is equipped with chairs and a large dining table made of granite, as well as everything necessary for cooking. Room rate includes free use of Wi-Fi Internet access, towels, bed linen, slippers, soap and shampoo. Barbecue facilities and outdoor furniture are available. You will also find a hairdryer, iron, ironing board and dryer in the room. Guests enjoy free parking for two cars in the courtyard by prior arrangement. Available interconnecting rooms with a maximum capacity of up to 10 people at a time. Family & Friends guest house is just 1 km from the International Exhibition Center and 20 minutes from Boryspil International airport, and within 14 minutes you can walk to Peremoha park or Komod entertainment center. In addition, a bus stop to Livoberezhna metro station (5 minutes) departs every 15 minutes from the bus stop located at the guest house. There is the Church of the Intercession of the Holy Virgin Convent and the picturesque Hidropark near the house.
Main Facilities
WiFi - Air Conditioning - Lift/elevator or 1-2 floor - Laundry washer - TV Set
Additional Services
Additional cleaning upon request - Laundry service - Extra linens and towels available on request
Apartment Amenities & Features
Alarm System - Iron & Ironing board - Clothes dryer - Door intercom with camera - Soundproof rooms - Autonomous heating - Internet access: Wireless - View to the yard
Apartment Management Features
Groups welcome - Cleaning once per week
Bathroom
Wash-basin - Heated floor - Mirror - Hair Dryer - Shower cabin
Building & Surroundings
Closed territory - Video surveillance - Wheelchair ramp - New building (5-10 years old) - Entrance from the yard
Living-room
Pot flowers - Radio - Desk - Wardrobe - Pictures - Coffee table - Sofa-bed for 2 persons - Heated floor - TV Stand - King-size bed - Digital TV - Satellite TV - Flat Screen TV Set - Air Conditioner - Mirror
Location
Exhibition Center nearby - Bar(s)/Cafe - Grocery store/supermarket nearby - Restaurant(s) - Beach (up to 5 minutes walking) - Park - City-bus stop nearby - Metro station nearby - ATM nearby - Bank nearby - Gym nearby - Drugstore nearby - Tourist sights nearby
Reception Information & Features
Reception - limited hours - Reception in the same building - Multilingual staff - Luggage room - City maps
Transport Services & Parking
Transfer service from and/or to the railway station - Transfer service from and/or to the airport - Private parking
House rules:
При размещении одного ребёнка младше 6 лет на имеющихся кроватях проживание ему предоставляется бесплатно. При регистрации заезда необходимо предъявить удостоверение личности с фотографией. Пожалуйста, примите во внимание, что выполнение особых пожеланий не гарантировано, а также может потребовать дополнительной оплаты. Завтрак не включен в стоимость номера, его можно заказать отдельно. Просьба соблюдать тишину и порядок в гостевом доме. Проведение массовых мероприятий запрещено. Посещение гостей только после согласования с администратором. Пожалуйста, заранее сообщите Family and Friends о предполагаемом времени прибытия. При розміщенні однієї дитини віком до 6 років на наявних ліжках проживання йому надається безкоштовно. При реєстрації заїзду необхідно пред'явити дійсне посвідчення особи з фотографією. Будь ласка, візьміть до уваги, що виконання особливих побажань не гарантоване, а також може вимагати додаткової оплати. Сніданок не включений у вартість номера, його можна замовити окремо. Прохання дотримуватися тиші і порядку в гостьовому будинку. Проведення масових заходів заборонено. Відвідування гостей тільки після узгодження з адміністратором. Будь ласка, заздалегідь повідомте Family and Friends про передбачуваний час прибуття.
Places nearby:
City Center (Khreschatyk Str)

(5.14km)

Independence Square

(4.57km)

Arena City Entertainment

(5.18km)

Kiev Borispol Airport (KBP)

(26.07km)

Train Station

(7.31km)

Kiev Bus Station

(7.91km)

Kiev Expo Plaza

(12.85km)

Kiev International Exhibition Center

(1.59km)

Expocenter of Ukraine

(12.07km)

Kiev Zhuliany Airport (IEV)

(12.25km)

Metro Poznyaky

(8.2km)

Olympic Republican Stadium

(5.59km)

Kontraktova Square

(4.73km)

NSC Olimpiyskiy Stadium

(5.59km)
Availability calendar
| Mon | Tue | Wed | Thu | Fri | Sat | Sun |
| --- | --- | --- | --- | --- | --- | --- |
| | | | | | | |
| | | | | | | |
| | | | | | | |
| | | | | | | |
| | | | | | | |
| | | | | | | |
Discounts
No Special Offers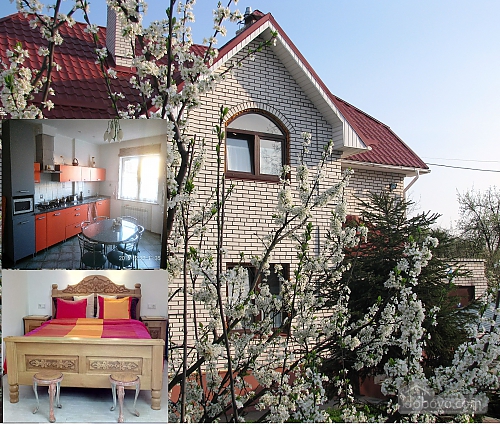 No reviews for this apartment